Who is Billy Bush, the 'Today' host talking to Donald Trump in the explosive leaked audio?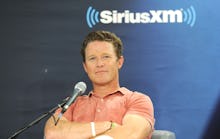 On Friday, the Washington Post published a leaked tape from behind the scenes of the soap opera Days of Our Lives featuring Republican presidential nominee Donald Trump. On the tape, Trump describes how he believes his celebrity helps him in his sex life, and utters the phrase "grab them by the pussy."
But Trump is not alone on the tape. He's talking to Today Show anchor and former Access Hollywood host Billy Bush, and judging by online reaction, Bush is coming in for just as much heat as Trump.
The host made a statement in response to the tape, saying he was "embarrassed and ashamed" and "very sorry." 
Bush is the current co-anchor of the third hour of The Today Show, sitting alongside Al Roker and Tamron Hall. He was last in the news in a major way when he defended Ryan Lochte during NBC's Olympics coverage, much to Roker's chagrin.
At the time of the tape, Bush was employed at the entertainment newsmagazine show Access Hollywood. He left the show earlier this year.
On the tape, Bush eggs Trump on, even urging Days of Our Lives actress Arianne Zucker to physically comfort the real estate mogul. "How about a little hug for the Donald?" Bush asks.
However, the tabloid Page Six reports Bush's job at Today is in no jeopardy at the moment. The writers quote an NBC source as saying, "It happened 11 years ago ... Billy was in a different place. He was a lot younger and more immature. He's definitely embarrassed by this, but his job at Today is safe."
Oh, and if you're raising an eyebrow at his last name: Yes, he's related to two presidents of the United States.