Paul Ryan disinvites Trump from campaign event as Republicans blast leaked sexist remarks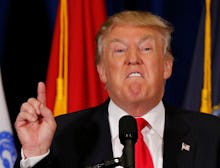 Though he would appear on the ballot as a Republican, the swashbuckling Donald Trump entered the presidential race as a man without a party — and he may be poised to end it the same way.
Following the Washington Post's publication of a 2005 tape in which Trump boasted he could "do anything" with women, including "grab them by the pussy," House Speaker Paul Ryan on Friday night disinvited Donald Trump from a Wisconsin campaign event scheduled for Saturday, a move that underscored how the bombshell could rupture the billionaire's tenuous alliance with the party whose nomination he formally accepted nearly three months ago.
"I am sickened by what I heard today. Women are to be championed and revered, not objectified. I hope Mr. Trump treats this situation with the seriousness it deserves, and works to demonstrate to the country that he has greater respect for women than this clip suggests," Ryan said in a statement.
"In the meantime, he is no longer attending tomorrow's event in Wisconsin," the speaker added.
A slew of prominent Republicans also condemned their party's presidential nominee, whom many had grown to grudgingly accept as their only hope of defeating Democratic nominee Hillary Clinton.
"These comments are repugnant, and unacceptable in any circumstance," said Senate Majority Leader Mitch McConnell of Kentucky, who like Ryan has lent Trump his support.
"No woman should ever be described in these terms or talked about in this manner. Ever," Republican National Committee chairman Reince Priebus, who was also slated to appear with Ryan and Trump at the Janesville campaign event, said in a statement.
Priebus did not say whether he or the RNC were reassessing their support for Trump's candidacy, but the real estate mogul's remarks effectively condoning sexual assault raised the question of whether some backers might renounce their support, as at least one former governor and presidential candidate did on Friday.
Meanwhile, #NeverTrump Republicans who have long refused to endorse the billionaire showman may see in the bombshell a vindication of their view that Trump is an ill-tempered vulgarian unqualified to serve as commander in chief.
Mitt Romney, who accepted Trump's endorsement on his way to securing the GOP nomination in 2012 but has vociferously criticized him this year, laid into his successor as party standard-bearer, tweeting that Trump's remarks were "vile."
Sen. Jeff Flake of Arizona sounded a similar theme, saying "America deserves better," while Sen. Mark Kirk of Illinois, who faces a tough re-election race next month, called Trump a "malignant clown."
In a message retweeted by Clinton, Trump's vanquished primary foe Jeb Bush said "no apology can excuse away" what Trump said.
Trump released a brief statement Friday afternoon in which he apologized "if anyone was offended." Though that half-apology struck many as far from adequate, Rep. Elise Stefanik of New York wrote on Facebook that she hoped it was "sincere," casting Trump's 2005 comments as "just wrong."
Later, Trump released a video statement offering a fuller, unconditional apology.
In a statement provided to Mic, Sen. Kelly Ayotte of New Hampshire — who's locked in a neck-and-neck re-election battle against Democratic challenger Maggie Hassan — said Trump's comments were "totally inappropriate and offensive."
Ayotte did not indicate whether she would continue supporting Trump; though she has declined to formally endorse him, citing concerns about his inflammatory comments, she has said she will vote for him in November. The senator drew ridicule earlier this week after saying in a debate against Hassan that Trump was "absolutely" a role model for children — a remark she walked back in a statement the same night.
One Republican who has jumped ship is Jon Huntsman, the former Utah governor and ambassador to China who mounted a 2012 bid for the GOP presidential nomination. Huntsman endorsed Trump after he clinched the 2016 nomination in May, but he told the Salt Lake Tribune Friday that Trump should step aside in favor of running mate Mike Pence.
"In a campaign cycle that has been nothing but a race to the bottom — at such a critical moment for our nation — and with so many who have tried to be respectful of a record primary vote, the time has come for Gov. Pence to lead the ticket," Huntsman said.
But while the leak of Trump's private remarks may prove even more damaging than previous controversies surrounding his often-incendiary rhetoric, establishment Republicans like Ryan and Huntsman had ample opportunity before Friday to come to terms with the reality of Trump's basic character. They now find themselves in a situation where, from a logistical standpoint, they can't very well discard him.
With 31 days until Election Day, the best the party can hope for now may be to simply stanch the bleeding, and prevent Trump from dooming the party's efforts to hold onto crucial Senate and House seats.
Celeste Katz and Emily Cahn contributed reporting.