Donald Trump's lewd talk about women just made his second presidential debate way tougher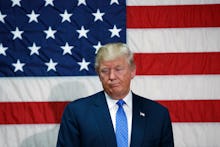 For Donald Trump, this appears to be the worst of times.
The Republican nominee turned in a rocky enough performance in his first presidential debate against Hillary Clinton last month. Then, days from their second faceoff, the dreaded "October Surprise" landed in his lap: The Washington Post unearthed a 2005 tape of Trump mouthing off about women in the crassest of terms.
Talk about the past coming back to haunt him when he needed it least.
Trump and Clinton meet at Washington University in St. Louis Sunday night for a televised town hall-style event featuring an exchange between the candidates, moderators and questioners in a live audience.
It's a much more intimate format than Trump faced when debating Clinton at Hofstra University in September, and a world away from the mega-rallies he's used to addressing.
At Hofstra, Trump didn't choke, but he stumbled at times, accusing the 68-year-old Clinton of having spent her "entire" life fighting ISIS and getting punchy about his complicity in the "birther" movement.
And that was all before the world heard him obscenely boasting his star power allowed him to have his way with women.
"Grab them by the pussy," Trump said on the Access Hollywood recording from 2005. "You can do anything."
Trump rolled out a social media mea culpa in the wee hours of Saturday, expressing regret for his crass comments — "I said it, I was wrong and I apologize" — even as he cast aspersions on Clinton and her husband.
But members of his own party are chastising him for denigrating women. Some are actually rescinding their support.
The damage may be done.
"With the RNC chairman denouncing Trump's comments, that becomes a gamechanger," Susan Del Percio, a New York-based GOP strategist unaffiliated with the campaign, said in an interview.
"Team Clinton has at least one more bad story to drop before or during the debate," Del Percio said. If a questioner confronts Trump face to face about the raunchy tape on TV, "Trump will be on his heels and extremely defensive — and that is where he makes the most mistakes," she continued.
"It is highly unlikely that Trump, as undisciplined as he is, can move past this without digging himself into a deeper hole," Del Percio added.
Campaign representatives refused to say whether Trump's preparations for St. Louis would be more rigorous than the reportedly little work he did ahead of his first showdown against the studious, experienced Clinton.
However, after House Speaker Paul Ryan nixed a scheduled Saturday appearance with Trump following the Washington Post story, the neophyte politician promptly announced he'd spend the time in debate prep with GOP boss Reince Priebus, New Jersey Gov. Chris Christie and Alabama Sen. Jeff Sessions.
Another Republican consultant with Trump ties predicted the embattled nominee would spend the second debate trying to downplay or ignore the scandal.
Instead, the source said, Trump will likely "talk economy and homeland security" and attempt to convince viewers he's the victim of a hostile press.
A second source close to Trump who spoke before the Washington Post scoop hit Friday expressed hope the candidate would get in his jabs at Clinton and move on.
"Hit her fast, hit her hard at the very beginning, and then tell the moderator, 'Do not ask me another question other than how I'm going to create jobs, how I'm going to fix the debt and how I'm going to secure our borders and enhance our military," the source advised.
If Clinton attacks, the source said in an interview, Trump should "laugh at her [and] force her to respond to her issues, which legitimately are damaging to both her campaign and to the American people."
Bart Rossi, a political psychologist who's previously pegged Trump as an authoritarian narcissist with an honesty problem, had a completely different idea for how the GOP hopeful should approach the debate: Skip it.
"He should not go on. He cannot defend himself," Rossi said late Friday.
Trump "has now demonstrated in public and in the context of political psychology that he is seriously disturbed," he said. "His own personality has destroyed him."