Feminist icon Gloria Steinem: Trump's leaked remarks reinforce "violence" against women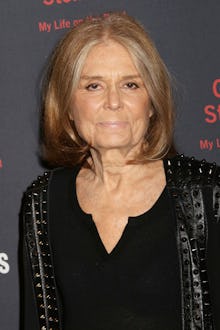 One of the most iconic figures in modern American feminism says Donald Trump's crass commentary about women is tantamount to "hate speech."
Gloria Steinem, a longtime champion of women's rights and equality who supports Democrat Hillary Clinton for president, told Mic Friday night that Trump's caught-on-tape objectification of women portends something much darker.
"Rape culture and sexualized violence are becoming so common that, as the United Nations tells us, there are now fewer females on earth than males," Steinem emailed from the Midwest, where she's on the trail for the Democratic nominee.
"Hillary Clinton knows that violence against females is the best predictor of other violence, and makes that fact an element in our foreign policy," Steinem said. "Trump's rhetoric normalizes dominance and violence, and endangers us all."
The Republican nominee found himself disinvited from a joint appearance with GOP House Speaker Paul Ryan Friday and rebuked by Republican National Committee Chairman Reince Priebus after the Washington Post unearthed a tape of Trump bragging about his sexual prowess.
Trump told an interviewer in the graphic 2005 hot-mic recording that his celebrity status allowed him to do "anything" he wanted with women, including "grab them by the pussy."
His remarks, publicized just two days before his second debate against Clinton — the would-be first female president — drew widespread condemnation from both sides of the aisle.
Trump said in a statement he regretted having offended anyone — but also threw an elbow at his foe's husband, saying former President Bill Clinton had said far worse to him on the golf course.
A Trump spokeswoman didn't immediately respond to a request for comment.