In video statement, Donald Trump apologizes for lewd taped remarks on groping women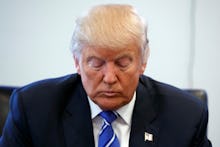 Republican presidential nominee Donald Trump released a historic video mea culpa Saturday, expressing regret for crude remarks about women he made in a newly revealed tape.
"I've never said I'm a perfect person, nor pretended to be someone that I'm not. I've said and done things I regret, and the words released today in this more than a decade-old video are one of them," Trump said in a statement released just after 12 a.m. Saturday.
Trump apologized after the Washington Post unearthed a hot-mic recording from 2005 capturing him making egregious statements to a television host about his prowess with women.
In the clip, the married Trump is heard boasting about how his celebrity allowed him to have his way with women.
"Grab them by the pussy," Trump says on the tape. "You can do anything."
In Saturday's straight-to-camera campaign clip published on Facebook and Twitter, Trump insisted that "anyone who knows me knows these words don't reflect who I am. I said it, I was wrong and I apologize."
Trump said his travels as a candidate had educated and humbled him — but his apology, characteristically, didn't come without a few barbs.
"I've said some foolish things. But there's a big difference between the words and actions of other people. Bill Clinton has actually abused women and Hillary has bullied, attacked, shamed and intimidated his victims," Trump said, referring to assault allegations against the former president.
He pledged "to be a better man tomorrow," and vowed, "[I] will never, ever let you down."
Those who might have hoped Trump would renounce the nomination and clear the way for another candidate didn't get their wish.
"We will discuss this more in the coming days. See you at the debate on Sunday," he said.
Even as he said he was sorry for objectifying women, Trump kept up a challenging tone in the heated presidential contest.
"Let's be honest, we're living in the real world. This is nothing more than a distraction from the important issues we're facing today," he said. "We are losing our jobs, we're less safe than we were eight years ago and Washington is totally broken. Hillary Clinton and her kind have run our country into the ground."
The Manhattan real estate kingpin had issued an unusual personal statement via the campaign Friday after news of the graphic tape emerged.
He said he apologized "if anyone was offended" — but simultaneously downplayed his degrading 2005 comments as "locker room banter" and said he'd heard far worse from his competitor's spouse.
Trump was already under heavy fire for his track record of misogynistic statements when the Access Hollywood video surfaced.
The recording captured him admitting to host Billy Bush, "You know I'm automatically attracted to beautiful — I just start kissing them. It's like a magnet. Just kiss. I don't even wait."
He added, "And when you're a star they let you do it. ... You can do anything."
It wasn't long before House Speaker Paul Ryan disinvited Trump from a scheduled joint appearance in Wisconsin, calling the remarks "sickening."
Amid a general bipartisan uproar, Republicans including Utah Rep. Jason Chaffetz and former Utah governor and onetime presidential candidate Jon Huntsman rescinded their support for Trump as nominee.
Clinton and her running mate, Virginia Sen. Tim Kaine, excoriated Trump via Twitter.
Additionally, public figures including iconic feminist Gloria Steinem and Rep. Cathy McMorris Rodgers, the highest-ranking Republican woman in the House, said the nominee had gone beyond trash talk to "hate speech" and inciting or condoning violence.
Trump is set to face off against Clinton in the second presidential debate in St. Louis on Sunday.
Stephanie Gaskell contributed reporting.