In one quote, Stephen Colbert just nailed what the leaked Trump audio is really about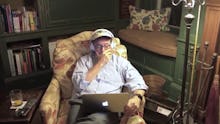 On Friday night, Stephen Colbert took time on his day off to address the horrifyingly misogynistic leaked audio of Republican presidential nominee Donald Trump.
In a video message recorded from his study, Colbert explained that he, along with his crew, had the night off as part of the Columbus Day long weekend, so no mention of Trump's comments had been included in the prerecorded show that would air later that evening.
"We did not know that today, this afternoon, there would be an audio release of the motherload, the El Dorado of Donald Trump misogyny gold," Colbert says in the clip.
The leaked audio, a dialogue between Trump and former Access Hollywood, correspondent Billy Bush, was too vile not to comment on, Colbert explains.
He then pops his headphones on to listen to Trump's comments for himself, presumably for the first time, and what follows is a reaction that seems so genuine and visceral that it will enrage anyone who's already heard the clip anew.
"Trump says in the video, 'When you're a star, they let you get away with anything,' and unfortunately that's true, because Donald Trump is the Republican nominee," Colbert says towards the end of the clip. 
He's right: Trump's real-estate fortune and reality TV fame have all but given him the keys to the kingdom during the 2016 election. His aggressive, boardroom-ready debate style allowed him to slide easily through the Republican nominating contests. His business acumen has been widely touted by his supporters as the trait that makes him uniquely qualified to be president. Past transgressions against women, including lewd remarks that the Associated Press recently reported that he made on the set of The Apprentice, were dismissed by Trump himself as being done "for the purpose of entertainment." 
Are you not entertained?
Colbert, for one, isn't laughing, and he ends his video message on a somber note on Trump's presidential prospects: "Hopefully someday, he'll be telling the story of how he tried to fuck America and failed."