2016 presidential polls: Here's where Clinton and Trump stand going into Sunday's debate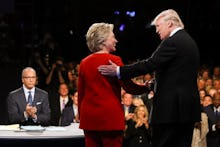 Here's how to watch the debate.
On Sunday, Democratic presidential nominee Hillary Clinton and Republican presidential nominee Donald Trump will spar in a town-hall-style debate that will require the candidates to respond to questions from audience members. 
After the first presidential debate, what had been a tight race became one where Clinton was able to command a healthy lead among voters. As of Wednesday, her post-debate bounce was higher than her post-convention bounce. 
Here's where the candidates stand in the presidential polls ahead of Sunday's debate
According to polling website FiveThirtyEight, Clinton had a 55% chance of winning the presidency before the debate, but as of Monday, she was at a 72% chance of winning. 
As of press time, she is at 81% in their polls-only prediction model. 
All the latest national polls from Friday have Clinton with a slight to comfortable lead, according to poll aggregator FiveThirtyEight. Nine separate polls released Friday show Clinton with a lead ranging from 1 point to 12 points, with Trump leading one poll by 3 points. 
Donald Trump's leaked video controversy likely to be center stage during Sunday's debate
When Clinton walked into the first presidential debate, she and Trump were almost evenly split among voters, but this time, Trump will walk in behind in the polls and fresh off of a controversy that saw the Republican nominee bragging that his celebrity status made it easier for him to grab women without consent. 
"Grab them by the pussy," Trump says on the audio clip. "You can do anything."
Despite the candidate's apology, Trump has been outed as someone who disrespects and assaults women, which will surely weigh on voters' heads before what will surely be an ugly debate on Sunday. 
Mic has ongoing presidential coverage. Please follow our main election hub as well as coverage of Donald Trump and Hillary Clinton.