2016 debate schedule: Here are the remaining dates when Clinton and Trump will face off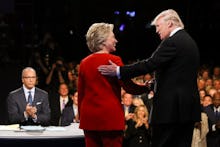 Election Day 2016 is just around the corner, but we're not out of the woods yet. With just under a month left until voting time, there are still hands to shake, babies to kiss — and two more presidential debates to weather.
With the first sparring match between Democratic nominee Hillary Clinton and Republican nominee Donald Trump and a vice presidential debate already in the books, it's time to look ahead at what's still to come.
Sunday, Oct. 9: second presidential debate
Not two days after the Washington Post released hot mic audio of Trump making lewd comments about women in 2005, the candidates are scheduled to take the stage for the second presidential debate.
Located at Washington University in St. Louis and moderated by Martha Raddatz of ABC News and Anderson Cooper of CNN, the second debate will be held in a town hall format, with questions taken from the audience and social media.
Wednesday, Oct. 19: third presidential debate
The final debate, which will be held at the University of Las Vegas in Nevada and moderated by Fox News Sunday anchor Chris Wallace, will revert back to the format of the first debate. 
Though no theme has been announced for the final debate of the 2016 election cycle, it's likely that the same issues that have dominated the campaigns of both candidates — email servers, tax returns and women's issues — will rear their heads once more.