In 10 hours, Trump pivots from apology for lewd remarks to an incredibly tone-deaf tweet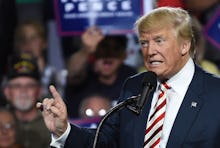 Hours after Donald Trump issued a rare apology for predatory remarks about women in a 2005 video, the Republican presidential nominee on Saturday cast doubt on just how remorseful he was, firing off a tweet musing about how "interesting" the past 24 hours had been.
"Certainly has been an interesting 24 hours!" Trump wrote in a tweet that came from his Android phone, indicating that he personally authored it.
The tweet drew swift rebukes from Democrats and Hillary Clinton campaign officials.
Trump's tweet came about 10 hours after he released a midnight video expanding on his initial apology to "anyone [who] was offended" by the leaked remarks, in which Trump said he could grope women "by the pussy" because as a celebrity, he could "do anything."
"I've never said I'm a perfect person, nor pretended to be someone that I'm not. I've said and done things I regret, and the words released today in this more-than-a-decade-old video are one of them," Trump said in the direct-to-camera apology.
But even as Trump issued that fuller apology, he also called the outrage over his remarks a "distraction" from the issues confronting the country, and promised to talk "in the coming days" how Clinton had allegedly "bullied, attacked, shamed and intimidated" women who had extramarital dalliances with her husband, former President Bill Clinton.
Trump and Clinton are set to face off in their second presidential debate on Sunday.