Oct. 9 debate livestream: How to watch second presidential debate online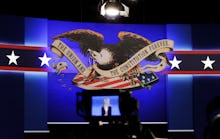 On Sunday night at 9 p.m., Eastern, Democratic presidential nominee Hillary Clinton and Republican presidential nominee Donald Trump will spar in the second of three presidential debates slotted before the Nov. 8 presidential election. 
The 90-minute, commercial-free debate, held at Washington University in St. Louis, will be town hall style and require the candidates to respond to questions from the audience. ABC's Martha Raddatz and CNN's Anderson Cooper will serve as hosts.  
Where to find the presidential debate livestream online
All major broadcast networks — CBS, NBC, ABC, Fox, PBS, Univision, CNBC, CNN, Fox News, MSNBC, C-SPAN — will broadcast the debate, according to CBS News. Instead of the debate, NBC will air an NFL game between the New York Giants and the Green Bay Packers.  
YouTube will livestream the debate and Bloomberg LIVE will air the debate live on its Twitter account. 
After the first presidential debate, a tight race transformed into a race where Clinton was able to command a healthy lead among voters. As of Wednesday, her post-debate bounce was higher than her post-convention bounce. 
According to polling website FiveThirtyEight, Clinton had a 55% chance of winning the presidency before the first debate, but as of Monday, her chance of winning was at 72%. 
As of press time, she is at 81% in their polls-only prediction model. 
If his poor debate showing last time were not enough of a specter over this weekend's debate, Trump is also in the middle of a campaign meltdown, after an audio leak from 2005 revealed him making aggressive and crude comments, bragging that he can grope and grab women without consent because of his celebrity status. 
Trump followed the leak with a tone-deaf apology in which he spent more time attacking Clinton and her husband, former president Bill Clinton, than apologizing. 
Mic has ongoing presidential coverage. Please follow our main election hub as well as coverage of Donald Trump and Hillary Clinton.