Donald Trump may have just alienated a key voting demographic: Robert De Niro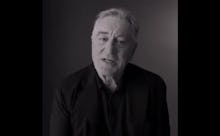 In the aftermath of the Washington Post's release of hot mic audio that captures Donald Trump describing in graphic detail the way his fame enables him to foist himself onto non-consenting women, it seems that the Republican candidate has alienated himself from one of the nation's key voting demographics: beloved 73-year-old actor Robert De Niro.
In response to the leaked clip, a furious De Niro has released a video of himself unloading a litany of insults directed at the Republican nominee. What follows is an incomplete list of the things De Niro compares Trump to in the minute-long video:
- A dog
- A pig
- A con
- A bullshit artist
- A mutt who doesn't know what he's talking about
- An idiot
- A "national disaster" 
- An "embarrassment to this country"
De Niro follows up this parade of insults by highlighting all of what he believes to be Trump's shortcomings, which include the fact that he:
- Doesn't do his homework
- Doesn't care
- Thinks he's gaming society
- And that he "doesn't pay his taxes."
"It makes me so mad that this country has gotten to this point, that this fool, this bozo has wound up where he has," an impassioned De Niro says in the clip. "This is somebody that we want for president? I don't think so."
The actor concluded his message by urging voters to keep the best interests of the United States at the top of their minds when they head out to vote for the next president this November.
"What I care about is the direction of this country," De Niro said. "And what I'm very, very worried about is that it might go in the wrong direction with someone like Donald Trump. If you care about your future, vote for it."