Mike Pence says he "cannot defend" Donald Trump from latest scandal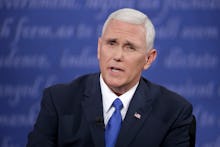 In the wake of the release of a 2005 video which captured Republican nominee Donald Trump openly bragging about how his celebrity status enables him to kiss and grope women as he pleased, Trump's vice presidential nominee Mike Pence has made it clear he is not pleased.
Pence cancelled an appearance at a gathering of party leadership in Wisconsin, NBC News reported, the same event which Speaker of the House Paul Ryan had earlier made it clear Trump was no longer invited to attend. Pence also released a statement condemning Trump's remarks, writing, "As a husband and father, I was offended by the words and actions described by Donald Trump in the eleven-year-old video released yesterday."
"I do not condone his remarks and cannot defend them," Pence continued. "I am grateful that he has expressed remorse and apologized to the American people. We pray for his family and look forward to the opportunity he has to show what is in his heart when he goes before the nation tomorrow night."
Some prominent Republicans have already began calling for either Pence to leave the Republican presidential ticket, or for Trump to step aside and let Pence run the remainder of the campaign.
Independent presidential candidate Evan McMullin called for Republican leaders to abandon their own candidate and support his campaign on Saturday morning.