The RNC just cut off support to Donald Trump. Here's what that means.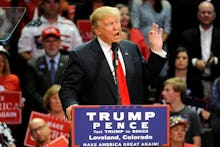 As calls mounted for Donald Trump to exit the presidential race following the leak of a videotape in which he made predatory comments about women, the Republican National Committee on Saturday cut off support to the nominee's campaign, a move that could cripple not only the party's White House efforts but its attempts to retain full congressional control, as well.
In an internal email obtained by Politico, RNC staffer Lauren Toomey ordered a moratorium on the committee's "Victory" campaign in support of Trump, writing, "Please put a hold/stop on all mail projects right now. If something is in production or print it needs to stop."
The email appeared under the subject line "Hold all projects."
The program is indispensable to Trump's hopes of mobilizing voters to turn out and vote next month, particularly given his lack of a meaningful ground game against the Hillary Clinton turnout juggernaut.
Saturday's move may be intended as a means of nudging Trump to drop his White House bid — something he told the Wall Street Journal there was "zero chance" he'd do.
Should Trump hold true to that promise and continue to be starved of RNC support, the committee may struggle to save vulnerable House and Senate candidates; it's difficult to mobilize voters to turn out for down-ballot races if a party won't support the top of its ticket.
But with Trump increasingly looking like an albatross around the necks of endangered Republicans, the party may simply have decided that its decision Saturday represented the least bad of its unsavory options.