Melania Trump calls Donald Trump's 2005 remarks "unacceptable and offensive"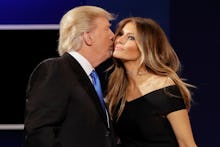 In the wake of the Washington Post's release of hot mic audio from 2005 showing Republican presidential nominee Donald Trump bragging about how his fame enabled him to kiss and grope women as he pleased, Trump has seen rebukes from numerous high-profile GOP leaders.
Those condemnations include his running mate Indiana Gov. Mike Pence, Speaker of the House Paul Ryan, and now, it would seem, his third and current wife, Melania Trump.
In a statement, Trump spoke out against her husband's remarks, saying "The words my husband used are unacceptable and offensive to me. This does not represent the man that I know."
"He has the heart and mind of a leader," she added. "I hope people will accept his apology, as I have, and focus on the important issues facing our nation and the world."
The tape has strained Trump's relationship with GOP officials further than any of the controversies which preceded it, even as the candidate refused to step down from his role as the nominee in interviews on Friday and in tweets on Saturday.
"Certainly has been an interesting 24 hours!" Trump quipped, following the tweet hours later with another saying "The media and establishment want me out of the race so badly - I WILL NEVER DROP OUT OF THE RACE, WILL NEVER LET MY SUPPORTERS DOWN! #MAGA."