9 vitamin D-packed foods that'll stave off the winter blues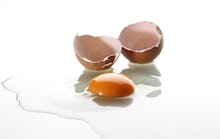 As the the sun's rays have become scarcely seen and most of your life is now spent indoors, cuddled up under a blanket and plenty of layers of soft, cozy fabrics, you're going to want to up your vitamin D intake. According to the Vitamin D Council, not getting enough sun exposure and not taking vitamin D supplements can lead to a vitamin D deficiency, which can result in tiredness, fatigue and aches and pains in your body. 
According to the National Institutes of Health, vitamin D plays an essential role in calcium absorption and prevention of bone disorders and osteoporosis. Vitamin D can also help to reduce inflammation, cell growth, immunity and more. 
Though vitamin D is rarely found in foods, the NIH considers foods containing 20% or more of your recommended vitamin D intake — which is 600 International Units for both males and females between the ages of 1 and 70 (but of course, consult a doctor for your specific recommended intake)— to be high in vitamin D. Many other foods like milk, cereal and orange juice are fortified with vitamin D, and even mushrooms grown under certain UV lights may be higher in vitamin D. Banish the winter blues, maybe before they even fully set in, by adding these foods packed with vitamin D to your winter eating routine.
Swordfish
Three ounces of cooked swordfish contains 566 IUs of vitamin D. Note that the FDA recommends only 400 IUs of vitamin D daily, so according to their nutritional data, a small serving of swordfish contains 142% of your daily recommended intake! Try making Sicilian-style swordfish with capers, olives and sun dried tomatoes. Get the recipe here.
Salmon
Three ounces of Sockeye salmon has 447 IUs of vitamin D, 112% of your daily recommended intake, bye FDA standards. Other types of wild salmon (read: not farmed) have been proven to be substantially high in vitamin D. Try this salmon recipe, which is literally impossible to mess up, or cook up a buttery garlic salmon in foil. Get the recipe here.
Tuna fish 
Three ounces of tuna fish has 154 IUs of vitamin D — a typical can has five ounces of tuna, which means almost 300 IUs of vitamin D are packed in each can. Try a quick and easy tuna fish salad that's mayo-free! Get the recipe here.
Orange juice fortified with vitamin D
While oranges alone are a great source of vitamin C and other nutrients, they're naturally deficient in vitamin D. Luckily for us vitamin D-needing people, many orange juice companies supplement their OJ with vitamin D and you can't even taste it. Consider making OJ your winter beverage of choice, just beware of added sugars. 
Sardines
If you hadn't caught on already, many types of seafood are high in vitamin D. Phytoplankton and zooplankton, which small fish feed on, produce vitamin D, which our edible fish consume and contain for us to eat. Just two sardines contain 46 IUs of vitamin D. Try adding sardines to toast with butter, avocado or hummus. Get the recipe here.
Eggs
Vitamin D is found in egg yolk, which has 41 IUs of vitamin D. The egg white doesn't contain any vitamin D. Make some eggs sunny side up to compensate for your lack of sunshine. 
Beef liver
Liver and onions may not be the first thing you think of for a warm winter meal, but consider grilling beef liver or stirring it into meat sauce for an added richness. A three-ounce serving of beef liver has 42 IUs, and while you're probably not going to fill up on liver to get all the hundreds of IUs you need, liver can add a tasty boost of vitamin D. 
8. Milk and yogurt
Milk and yogurt can both be vitamin D-fortified to contain 20% to 30% of your daily recommended value of vitamin D. 
9. Cereal 
Packaged cereals, even including the sugary cereals in colorful, character-covered boxes, are often fortified with vitamin D. It's important to be mindful of your sugar intake, but if you're into eating Froot Loops as a dessert, at least you can feel good about eating a dessert with vitamin D. Vitamin Dessert, anyone?