The most menacing 2016 Halloween cocktail recipes you have to try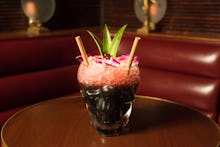 Halloween season is here in full force! But just because you've outgrown trick-or-treating doesn't mean you don't deserve a treat, or several. 
It's all about activated charcoal this year, used in everything from black ice cream to these themed cocktails to add another level of black magic. Shake up some boo-zy cocktails and get into the holiday spirit with these Halloween cocktail recipes that will get you scary drunk. Just don't get spooked when you're craving another round — they're that good. 
Perla Negra 
Created by bartender Jim Kearns for Slowly Shirley in New York City, this black cocktail is best served in a clear glass (skull-shaped, ideally), and is an excellent double straw addition to any couple's costume.
Ingredients: 
.5 tsp. activated charcoal
Garnish: 2oz Sorrel, votive candle, orchids and large straws
Method: Measure out the activated charcoal with a measuring spoon and put it into a shaker. Measure and add the rest of the ingredients — setting the sorrel aside for later — into the tin. Shake with about three large ice cubes. Strain over crushed ice into the skull bowl. Pack a lit votive candle into the crushed ice on top of the cocktail. Measure and pour sorrel around the candle and garnish
Heart of Darkness
Created by Courtney Colarik for Pouring Ribbons this cocktail as dark as your soul is seriously a black, boozy take on a margarita and yes, too many of these and you and your black tongue won't remember any of Halloweekend. 
Ingredients: 
1.5 oz Cimarrón Blanco Tequila
Method: Add ingredients to a shaker, add ice and quickly shake. Fine strain into a snifter glass, add crushed ice and garnish. 
Dreamsicle
Created for a fast food vegan sensation by CHLOE, this scary-good cocktail fits into pretty much any diet. 
Ingredients: 
1 oz vanilla vodka
Method: In a cocktail shaker, combine all ingredients. Add a scoop of ice and shake vigorously. Strain into a rocks glass over ice and garnish with an orange slice.
October Punch
Created by Daniel Bedoya at NYC Viennese-inspired cocktail bar The Third Man, this punch serves a group and can easily be ladled out into spooky pumpkin cups. 
Ingredients:
32 oz of apple cider
Method: Throw all ingredients into a punch bowl, mix and stir with a ladle. Add ice to the top of the punch bowl and serve!