SNL had a field day with the leaked Donald Trump audio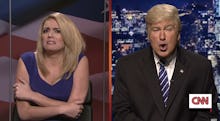 Saturday Night Live's Oct. 8 cold open begins with the vice presidential nominees settling in to talk about substantive issues, but is quickly forced to divert its attention to Donald Trump (played by Alec Baldwin) as news of his crude 2005 comments breaks.
Sound familiar?
The scene begins with a recreation of the first and only vice presidential debate, featuring "new Hispanic cast member" Melissa Villaseñor, who explains that she's playing Asian moderator Elaine Quijano "because, baby steps."
Countering a claim that Trump, the Republican nominee, has made misogynistic comments about women in the past, Indiana Gov. Mike Pence (played by Beck Bennet) is reassuring:
"Those are lies. Donald Trump loves women. He respects women. He's never said a single bad thing about women."
Cut, of course, to a breaking CNN news report announcing the contents of the audio leaked by the Washington Post on Friday, where Trump admits to trying to sleep with a married woman and claims that being a star grants you permission to grope women without recourse.
Baldwin returns again to serve up his masterful Trump impression, and he delivers, dropping the word "pussy" on live TV in a move that's bawdy even by SNL's late-night standards.
The sketch also features Kate McKinnon in her Emmy-winning role as Hillary Clinton, dancing and drinking champagne at her campaign headquarters as the news breaks (the SNL writers room probably reacted in a similar way — this sloppy 2016 election must make for comedy writing gold).
"Since Mr. Trump's comments were so bad, do you think he should drop out?" Cecily Strong's news anchor asks Clinton.
"No, no no no!" Clinton quickly replies. "Give him a shot!"