New Donald Trump tapes with Howard Stern surface, with more crude remarks about women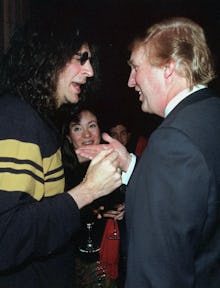 Less than two days after the Washington Post shocked the nation with bombshell footage of Republican presidential nominee Donald Trump explaining how his fame entitles him to force himself upon women, more tapes of the candidate making lewd comments have emerged.
In a new batch of recordings released by CNN on Saturday, Trump can be heard in conversations with radio shock-jock Howard Stern condoning referring to his daughter, Ivanka, as a "piece of ass," bragging about having threesomes and saying "it's checkout time" after a woman turns 35 years old.
The newly-released interviews, which span a 17-year period, reveal Trump's storied history with making derogatory comments about women.
In one recording, he describes intruding on naked Miss Universe contestants as they changed in their dressing rooms.
"I'm allowed to go in, because I'm the owner of the pageant, and therefore I'm inspecting it," he said, according to the Post.
In another interview from 2006, Trump talks openly with Stern about Ivanka's breasts, describing his daughter as a woman who has "always been very voluptuous."
On Friday, the Post published audio that had been captured by a hot mic in 2005 of Trump, speaking to then-"Access Hollywood" correspondent Billy Bush, talking about trying to sleep with a married woman and describing his penchant for kissing women without their consent.
"And when you're a star, they'll let you do it, you can do anything — grab them by the pussy — you can do anything," Trump says in the footage.
The comments swiftly set off a wave of revulsion and horror among Trump's Republican supporters, just days away from the second of three presidential debates. 
At one point during one of the interviews with Stern, Trump is asked to describe his idea of the perfect date.
"You meet at 7 for drinks," Trump says. "You promise to take her to dinner, but you never get there."