Who is Juanita Broaddrick, the woman who accused Bill Clinton of raping her in 1978?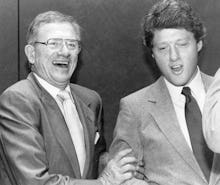 On Sunday, conservative news site Breitbart published an exclusive interview with Juanita Broaddrick, the woman who accused former United States President Bill Clinton of raping her in 1978.
In footage from the interview, Broaddrick sobs as she recounts the alleged assault, which she says occurred during a stop along Clinton's Arkansas gubernatorial campaign that year.
Broaddrick, who was working as a nursing home administrator at the time, claims that the rape occurred at the hotel in Little Rock where she was staying — and says that Clinton bit her lip so hard that it bled and tore her skirt before he raped her twice.
"And then as he points over my shoulder, he grabs me and turns me to him," Broaddrick says in the interview. "And that was a shock. And I tried to push him away. And I only weighed about 120 pounds at that time. He was a very large man. And I kept telling him, 'No. I don't want this at all.'"
Jane Doe No. 5
Broaddrick first made her story public long before the Breitbart interview. In 1999, Broaddrick gave an interview to Dateline on NBC, making her story public for the first time.
She had previously been known only as "Jane Doe No. 5" — a pseudonym given to her to protect her identity during investigations into the Clinton impeachment trial. 
Although a 1999 report by the Washington Post claimed that she had long been urged to make her claims known while the trial was ongoing, Broaddrick didn't drop her bombshell accusations until after Clinton had already been acquitted.
"It's important to me to tell what happened," she said at the time. "I don't know how people are going to take this. I don't know what they're going to think after all these years and months why I've come forward."  
Accusations against Hillary Clinton
After going public, Broaddrick had plenty more to say about the Clinton family: According to her account, Hillary Clinton, Bill Clinton's wife and the 2016 Democratic nominee for the presidency, had made concerted attempts to silence her story.
In an interview with Sean Hannity, Broaddrick recounts a time when, two weeks after the alleged assault, Hillary Clinton pulled her aside and told her "how much Bill and I appreciate what you do for him."
As Broaddrick turned to leave, she says, Hillary Clinton grabbed her hand and squeezed it tightly, then asked, "Do you understand everything that you do?"
Standing by her claims
In the 41 years since the alleged incident ocurred, Broaddrick has never wavered in her telling of the story.
During the 2016 election cycle, she's spoken out several times regarding Hillary Clinton's presidential campaign and the wounds left by Bill Clinton, which she claims never heal.