Who is Paula Jones? Woman who once accused Bill Clinton of sexual assault speaking out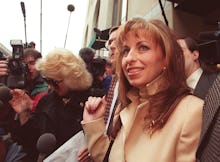 After audio recordings of Republican presidential candidate Donald Trump making lewd and predatory comments about women leaked on Friday, Trump and his supporters are trying to shift the focus off his transgressions to that of his rival Hillary Clinton's husband, former President Bill Clinton.
One woman who is speaking out is Paula Jones, a former Arkansas state employee who once sued Bill Clinton for sexual assault.
According to several conservative news sites, Jones took to Facebook to blast the Clintons and the media for the firestorm that erupted after the Trump tapes leaked.
"I don't recall that Bill or Hillary has ever apologized to me and Juanita Broaddrick or Kathleen Willey yet Bill was getting his wee wee sucked under the Oval Office desk and still won a second term, UNBELIEVABLE!" the Facebook update read in part.
Jones accused Bill Clinton of sexually assaulting her while he was governor of Arkansas.
In the lawsuit Jones filed against Bill Clinton, she accused the former president of assaulting her at a hotel in 1991 while she was a state clerk, the Washington Post reported. Jones said Clinton "touched her, tried to kiss her and dropped his pants and asked for oral sex."
"I was very excited the governor wanted to see me," Jones said of the encounter during an ABC interview in 1994, adding she thought Bill Clinton was going to offer her a job. "The governor is asking you to come up to a room ... and I did not know him or any of his past before that day."
Bill Clinton has always denied the allegations. In an audio recording from 1998, Bill Clinton referred to Jones as a "floozy" and a "nobody." 
A judge dismissed Jones' suit and Bill Clinton settled the lawsuit against him for  $850,000.
In 1998, a judge threw out Jones' case, stating there was no "no genuine issues for trial in this case," the New York Times reported at the time and that "the governor's alleged conduct does not constitute sexual assault."
Bill Clinton paid Jones $850,000 in an out-of-court settlement, in which he admitted no wrongdoing and did not apologize, the Washington Post reported. 
"The president has decided he is not prepared to spend one more hour on this matter," Bill Clinton's attorney said of the settlement. "It is clear that the American people want their president and Congress to focus on the problems that they were elected to solve. This is a step in that direction."
Jones supports Trump — even though he called her a "loser" once before.
Jones has shown support for Trump, posing for photos with him at an Arkansas rally and retweeting pro-Trump memes on her Twitter account.
But despite Jones' support, Trump hasn't had the most kind words for her in the past. "Paula Jones is a loser, but the fact is that she may be responsible for bringing down a president indirectly," Trump said in 1998, in audio discovered by the Washington Post.
The gloves are most certainly coming off for Sunday night's debate; Trump retweeting interviews of Bill Clinton accusers and Hillary Clinton using Trump's hot mic comments in a fresh batch of attack ads.