Harrison Browne comes out as the first openly transgender athlete on US pro sports team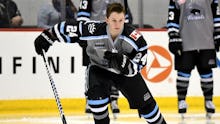 Young transgender athletes will now be able to see that it's possible to pursue a career in sports while living authentically and visibly.
Harrison "Brownie" Browne, who is a member of the National Women's Hockey League, has come out as a transgender man in a historic announcement that makes him the first openly trans player on a North American professional sports team, according to ESPN. 
In a powerful letter to his fans, Browne announced the name and pronouns that he identifies with. "Beginning today ... I'm making official what has been part of my life for a few years now," he wrote. "I'm Harrison. I'm a 'he.'"
Browne is a former junior circuit player from Canada. He was recruited by the University of Maine to play Division I hockey on scholarship, and graduated in 2014. Still early in his career, Browne began to become open about his transition several weeks ago. He asked NWHL Commissioner Dani Rylan for permission to change his name to Harrison and all of the pronouns on his records from 'she' to 'he.' Thankfully, the league was and continues to be very supportive of Harrison's journey. 
"At the end of the day, Harrison is the same player he was last year. We're here to support him,"  Rylan told ESPN. "It's really not a big deal when you look at it, we're respecting his name, the pronouns and his request to be his authentic self."
In a YouTube video, Browne also discussed the anxiety he felt before making the decision to come out publicly. "I thought I had to give up the sport in order to transition, but apparently I don't."
For now, it looks like Browne can put some of his worries to rest as his fans have displayed an outpouring of support online. 
And even though Browne has made changes in his life, he wants everyone to know that at his core, he is the same person. "When all is said and done, I'm still Brownie: hockey player, teammate, friend, fan of the game."