Who is Gennifer Flowers? Bill Clinton's affairs are still problematic for Hillary Clinton.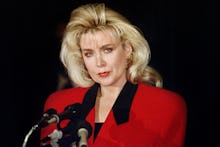 Before two rounds of damning audio leaked to the press, Republican nominee Donald Trump announced his intention to leave aside the sexual history of opponent Hillary Clinton's husband during Sunday night's debate, an improbable pledge from a man who reportedly invited Bill Clinton's alleged mistress, Gennifer Flowers, to sit ringside at the first presidential debate. 
Then the world heard a hot-mic conversation between Trump and then-Access Hollywood correspondent Billy Bush in 2005. In the audio, Trump explains that, when you are a celebrity, you can just "grab [women] by the pussy" and "you can do anything."  
Deflecting from his own questionable relationship to women has never been a more difficult or necessary task for Trump, and so it seems reasonable to expect Flowers' name to come up in the exchange during Sunday's town hall. Because while she supported Hillary Clinton in 2007, she has since shifted her loyalties to Trump, a change he's used in his effort to discredit Clinton for her husband's affairs. 
The Flowers affair, coming as it did in the middle of Bill Clinton's first run for president, feels particularly apt in light of Trump's own situation. 
In 1992, leading into the New Hampshire primaries, the Star ran a story that could have torpedoed Clinton's campaign. According to CNN, the tabloid paid Flowers, the woman at the story's center, more than $100,000 to corroborate the report: That she had maintained a 12-year affair with Clinton while he was governor of Arkansas. 
A former model and one-time cabaret dancer, Flowers was a local reporter at the time of the affair. Flowers is an author, public speaker and performer, and since confirming the relationship to the Star in 1992, she's stood by the story. 
The Clintons' position has been less clear. 
In a 1992 60 Minutes interview, Bill Clinton delivered a cagey denial of the extramarital affair rumors. Hillary was clearer. 
"You know, I'm not sitting here, some little woman standing by my man like Tammy Wynette," Clinton said. "I'm sitting here because I love him, and I respect him, and I honor what he's been through and what we've been through together. And you know, if that's not enough for people, then heck — don't vote for him." 
According to Politico, this was the interview that salvaged Clinton's campaign and sustained his ultimately successful bid for the presidency. But while the interview may have been a career-saver for Clinton, it infuriated Flowers. "He is absolutely lying," she said in a subsequent news conference, in which she played unclear audio of taped conversations between herself and Clinton that appeared to confirm their relationship.
In response to the allegations, the Clinton campaign began digging into Flowers' past with the express purpose of discrediting her character — to paint her as a "bimbo" and a "pathological liar," according to the New York Times. 
Hillary's role remains hazy. 
According to the Times, she either spearheaded or gave her "tacit assent" to the investigation. She has been accused — notably, by Juanita Broaddrick, who accused Bill Clinton of raping her in 1978 — of actively attempting to silence women who've made allegations against her husband, but her campaign spokesperson, Brian Fallon, maintains that she was not involved in the character assassination of Flowers. 
"Those who took the lead in responding to those attacks at the time have plainly stated that Hillary Clinton did not direct their work," Fallon said in a statement to the Times.
Still, Flowers poses a problem for the presidential hopeful. 
As Politico explained, Clinton's 60 Minutes interview, however successful, established her persona as a set of contradictions, which remain impossible for her to shake: How to come off as strong — strong enough to lead — without looking too strong. 
And then, there's the problem of her reactions to women, like Flowers, who've accused her husband of inappropriate sexual conduct. Today, Clinton has taken a firm stance for victims of sexual assault, telling them that they have "a right to be believed." It stands in direct contradiction her dismissal of women who make similar allegations against her husband. 
Eventually, Bill Clinton admitted to having had sex with Flowers, during a 1998 deposition. In 1999, Flowers filed a defamation suit against Hillary Clinton and two of her aides, which the court dismissed. And yet, nearly two decades later, the controversy persists.