These are all the times that Donald Trump defended Bill and Hillary Clinton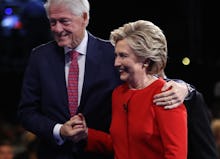 At the end of his 90-second videotaped apology for the lewd comments he made about women in 2005, Donald Trump went straight after former President Bill Clinton.
"I've said some foolish things. But there's a big difference between the words and actions of other people. Bill Clinton has actually abused women and Hillary has bullied, attacked, shamed and intimidated his victims," Trump said, referring to assault allegations against the former president.
He has consistently attacked his opponent Hillary Clinton on the campaign trail, specifically targeting her husband's past. But it wasn't always that way.
It's been well-reported that Trump invited the Clintons to his 2005 wedding to Melania at his Mar-a-Lago estate in Palm Beach, Florida.
During a Republican primary debate in August, Trump said Clinton had no choice but to attend his wedding because he had donated so much money to the Clinton Foundation and her Senate campaigns in 2000 and 2006.
"Well, I'll tell you what, with Hillary Clinton, I said be at my wedding and she came to my wedding. You know why? She didn't have a choice because I gave," he said, according to a transcript.
Then he quickly added a zinger: "I gave to a foundation that, frankly, that foundation is supposed to do good. I didn't know her money would be used on private jets going all over the world. It was."
In fact, Trump has gone to bat for the Clintons many times over the past few decades.
He was vocal in defending Bill Clinton during his impeachment trial in the late 1990s.
In a 1998 CNBC interview, Trump called Paula Jones, one of Clinton's accusers "a loser." He also said that Bill Clinton should have kept his mouth shut during his impeachment trial.
In that same CNBC interview, Trump said the president should have pleaded the Fifth Amendment, which allows U.S. citizens the right to not testify against themselves.  
"I'm not even sure that he shouldn't have just gone in and taken the Fifth Amendment and said, 'Look, I don't get along with this man, [independent prosecutor Kenneth] Starr. He's after me. He's a Republican. He's this, he's that,' and, you know, just taken the Fifth Amendment," he said. "It's a terrible thing for a president to take the Fifth Amendment, but he probably should have done it. I don't think he could have done any worse than what's happened."
And in 2008, in an interview with CNN, Trump said he thought Clinton should never have been impeached for "something that was totally unimportant."
That same year, he said HIllary would "make a good president."
And in 2012, he said he thought then-Secretary of State Hillary Clinton should run for president in 2016 and highly praised her and her husband.
"Hillary Clinton, I think, is a terrific woman. I mean I'm a little biased because I've known her for years. I live in New York, she lives in New York, I've known her and her husband for years and I really like them both a lot. And I think she really works hard," Trump told Fox News.
Trump has played numerous rounds of golf with Bill Clinton, who has also returned the compliment.
"Donald Trump has been uncommonly nice to Hillary and me. We're all New Yorkers," the former president said in 2012 interview with CNN. "I like him. And I love playing golf with him."
Some say Bill Clinton encouraged Trump to run for president just weeks before he announced his candidacy.
"Four Trump allies and one Clinton associate familiar with the exchange said that Clinton encouraged Trump's efforts to play a larger role in the Republican Party and offered his own views of the political landscape," the Washington Post reported.
Earlier this year, Trump implied that he was actually worse with women than Bill Clinton. Asked if he would consider running for political office, he joked about his history with women, according to a transcript by the Washington Post:
TRUMP: Can you imagine how controversial that'd be? You think about him with the women. How about me with the women? Can you imagine ...
And after the first debate, he said he didn't personally attack Bill Clinton because of his respect for their daughter Chelsea.
But after this leaked tape scandal, it appears that the gloves are off ahead of the second debate between the two candidates. On Sunday morning, Trump retweeted an interview with Juanita Broaddrick, the woman who accused Bill Clinton of raping her in 1978.