How will Hillary Clinton take on Donald Trump in the second debate? 4 things to watch for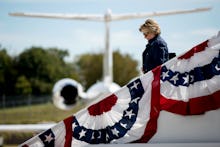 ST. LOUIS — There has never been a moment in a presidential campaign quite like this one.
The implosion of Donald Trump's campaign over the past 48 hours serves as the backdrop of the second presidential debate here at Washington University on Sunday. The emergence of a recording on Friday in which Trump bragged about sexually assaulting women has led to an unprecedented defection from Republican officials, dozens of who have renounced their support for Trump and called for him to drop out of the race altogether.
Trump's comments threaten to tank not just his candidacy but also the prospects for Republican candidates up and down the ballot, calling into question whether the GOP can retain control of both houses of Congress. This was unthinkable just two weeks ago.
Trump comes into the debate perhaps mortally wounded and signaling that he might lash out at his Democratic rival. Both candidates are in unchartered territory, and while Trump has the most to lose from a disastrous performance, there are risks and pitfalls lying in wait for Clinton as well.
How she navigates the unique set of circumstances surrounding Sunday's town hall-style debate will provide valuable insight into how she would handle high-pressure situations as president. Here are four questions to keep in mind while watching the second debate, which will be moderated by Anderson Cooper and Martha Raddatz and air at 9 p.m. Eastern on all major networks.
How forcefully will Clinton confront Trump over his 2005 comments?
Trump's comments about women proved to be the last straw for many Republicans, who released scathing statements Friday and Saturday condemning their party's nominee. 
But Democrats and the Clinton campaign have remained virtually silent. Aside from a tweet from Clinton's account on Friday, the campaign has declined to comment on the recording, instead waiting for the debate here on Sunday to drive their message home.
According to CNN, the first set of questions in the debate will focus on the Trump tape, with Clinton fielding the first inquiry. How she will choose to approach the issue is the most intriguing question going into the town hall.
Clinton will no doubt condemn Trump's comments in forceful terms and echo her campaign's message that he is unfit for the presidency. But will she call on Trump to drop out of the race? Will she lay another Alicia Machado-like trap for Trump? Or will she keep her response short and let Trump shoot himself in the foot?
Clinton's approach will become apparent within minutes of the debate's opening, and will set the tone for the rest of the night.
How will Clinton react if Trump brings up her husband's infidelities?
When Trump released a video early Saturday apologizing for his 2005 comments, he ended his statement by alluding to former President Bill Clinton's history with women.
"Bill Clinton has actually abused women and Hillary has bullied, attacked, shamed and intimidated his victims," Trump said. "We will discuss this more in the coming days."
Whether Trump follows through on his promise to "discuss this more" remains to be seen. Appearing on ABC's This Week on Sunday morning, former New York City Mayor Rudy Giuliani, a trusted Trump adviser, said it "depends on how the debate goes, I don't know," when asked whether Trump would mention Clinton's past. Trump threatened to bring up the issue before the first debate but ultimately did not.
However, Trump on Sunday retweeted Juanita Broaddrick, who accused Bill Clinton of raping her when he was Arkansas attorney general in 1978. Trump also shared a link to a Breitbart video interview with Broaddrick that was published Sunday morning:
If Trump does go through with his threat in the second debate, Clinton's reaction will be dissected for days to come. Will she brush off the insinuation that she is responsible for her husband's actions? Will she chide Trump for raising the issue in the first place? The Clinton campaign indicated the latter is more likely in this comment from communications director Jennifer Palmieri:
Will the town hall format play to Clinton's strengths?
The format for Sunday's debate is different than the first. Instead of taking questions directly from the moderators, the candidates will field questions directly from undecided voters in the audience, 40 of whom submitted questions in advance on Sunday morning. The moderators have sole discretion about which questions will be asked.
Clinton is expected to excel in this format, having hosted dozens of town halls over the course of the campaign and during her time as secretary of state. The setup will allow Clinton to connect personally with members of the audience. 
But the dynamic will also make it more difficult for Clinton to pivot from a given question to her pre-planned salvos against Trump. In the first debate, Clinton brought up Machado, the former Miss Universe champion, in the context of a completely unrelated question. When answering actual voters, however, it's more difficult to change the subject.
How will Clinton explain her closed-door comments on trade and immigration?
On Friday, the website WikiLeaks released emails from Clinton campaign officials that included what appeared to be partial transcripts of paid speeches Clinton delivered after stepping down as secretary of state in 2013. During her primary battle with Vermont Sen. Bernie Sanders, Clinton refused to release the transcripts of the speeches, which included remarks before financial institutions like Goldman Sachs.
While the transcript's authenticity has yet to be confirmed, its most revealing elements concern her positions on trade and the sausage-making aspect of politics. Speaking to a Brazilian bank in 2013, Clinton said "my dream is a hemispheric common market, with open trade and open borders, some time in the future," which does not appear to square with Clinton's opposition to the Trans-Pacific Partnership.
In another speech, Clinton discussed the importance of having "both a public and a private position" during negotiations over public policy. 
"If everybody's watching, you know, all of the backroom discussions and the deals, you know, then people get a little nervous, to say the least," she said.
The release of the transcripts would certainly be a bigger story were it not for Trump's 2005 remarks dominating the news cycle. But don't be surprised if one news-savvy questioner decides to press Clinton on the speeches.