Donald Trump criticizing Bill Clinton for his sexual history is mind-boggling hypocrisy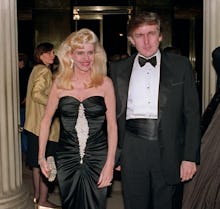 Donald Trump is on the defensive. After two candid audio recordings of the Republican nominee saying extremely offensive things about women — and in one instance, describing sexual assault as his means of seduction — surfaced just two days apart, Trump tried desperately during Sunday night's debate to deflect criticism away from himself and onto the husband of his opponent, Hillary Clinton.
In a surprise Facebook Live before the event, the Republican nominee rallied three women who've accused Bill Clinton of rape — Juanita Broaddrick, Paula Jones and Kathleen Wiley — to shift the focus away from the recording and onto the Clintons. 
It's far from the first time Trump has taken this tack, but it's a surprising choice, considering the deplorable ways in which he has treated and continues to treat women. Of his many attempts to discredit Clinton for her husband's behavior, one that rankles is a May interview with Sean Hannity in which the Fox News host criticized Bill Clinton's relationships to Broaddrick, Jones and Wiley.
"In one case, it's about exposure," Hannity said. "In another case, it's about groping and fondling and touching against a woman's will."
"And rape," Trump replied. 
Unfortunately, Trump has been accused of or admitted to each of the aforementioned violations against women. When he turns around and calls Bill Clinton a rapist, the hypocrisy is astounding.
In a hot-mic exchange between the Republican nominee and then-Access Hollywood correspondent Billy Bush, which the Washington Post leaked Friday, Trump bragged that because of his fame he can just "grab [women] by the pussy" and do whatever he wants with/to them. 
The absolute sexual agency Trump feels with respect to women has materialized in the form of rape allegations made against him over the years, including one by his ex-wife. 
According to the Daily Beast, Ivana Trump described a sexual encounter with her husband during a deposition in their divorce proceedings. She called the 1989 incident rape — describing Trump as having flown into a rage following a painful scalp reduction operation, which was performed by a plastic surgeon Ivana had used in the past. Trump grabbed his then-wife by the arms, ripped out chunks of her hair and then forcefully penetrated her. 
Ivana's deposition is detailed in the book Lost Tycoon by Harry Hurt III; a statement from Ivana appeared as a footnote on Hurt's description of what he called a "violent assault." She acknowledged having used the word rape, but said she "did not want [her] words to be interpreted in a literal or criminal sense," according to the Daily Beast. 
Ivana has since said that "the story is entirely without merit," and Trump's lawyer, Michael Cohen, threatened both to sue the pants off the Daily Beast and to "come after" the reporter if the publication ran its article. He also asserted, wrongly, that a person cannot rape their spouse: Marital rape is very much a thing, and it's very much illegal. In New York State, spousal rape has been against the law since 1984, which would mean that — if the incident occurred as described — Trump committed a sex crime. 
But that's not the only allegation of sexual assault Trump faces. In June 2016, a woman in California filed a lawsuit in a Manhattan federal court stating that the Republican nominee, along with convicted sex offender Jeffrey Epstein, raped her when she was a minor in 1994.
The case, in which plaintiff Jane Doe alleges that Trump tied her up with a pair of pantyhose and had forcible sex with her, bears striking resemblance to one previously filed by a Katie Johnson in California, Jezebel reported. Johnson said that, when she was 13 years old, Trump forced her and another minor — identified as Maria Doe, age 12 at the time of alleged assaults — into a variety of sex acts and promised money and modeling gigs in return. 
As Jezebel pointed out, the case is a difficult one to pin down, primarily because Johnson herself refuses to speak to the press and to come out of hiding: She reportedly fears for her life, after she says Trump and Epstein threatened her with "mortal danger" if she ever came forward. Though her case looks a lot like the one that wound up in a Manhattan court — minus the allegations that Trump threw a pile of money at her, telling her to get an abortion when she expressed concern that she might become pregnant from the rape — without confirmation from Johnson or the other women involved, it's difficult to corroborate any of it. 
However, as the Independent reported, a federal judge in Manhattan has set a hearing for Jane Doe's lawsuit. And while the Trump campaign was not immediately available for comment, the candidate has previously denied both rape allegations against him. 
Despite the candidate's many claims of innocence, the stories of his sexual misconduct keep rolling in. In May, the New York Times published the accounts of dozens of women on whom Trump made unwanted advances: kissing them against their will (despite the fact he was married), commenting on their bodies, touching them inappropriately and the like. A sexual harassment lawsuit filed by Trump's former business associate, Jill Harth, in 1997 prompted the paper to label him "Groper in Chief." 
On Sunday, a separate leak of incriminating recordings documented Trump praising his daughter, Ivanka, for her figure and agreeing with shock jock Howard Stern assessment that Ivanka is "a piece of ass" (not necessarily surprising, as Trump repeatedly references how dateable he finds Ivanka, but certainly still disgusting). He declares the expiration date on a woman's beauty as her 35th birthday, and admits to barging into the dressing rooms at Miss Universe as a thing he "sort of [got] away with" as the owner of the pageant. 
"I've said some foolish things," Trump said in a taped and tweeted apology for Friday's leaked audio. "But there's a big difference between the words and actions of other people. Bill Clinton has actually abused women and Hillary has bullied, attacked, shamed and intimidated his victims." 
But by all accounts, we can say the same of Trump: For every accusation he hurls at the Clintons, there's seemingly a woman who can attest to the same treatment at Trump's own tiny hands. It's not just "locker room talk"; it's authentic Trump. 
"What we all saw and heard on Friday was Donald talking about women," Hillary Clinton said during Sunday's debate. "What he thinks about women, what he does to women, and he has said that the video doesn't represent who he is. But I think it's clear to anyone who heard it that it represents exactly who he is."