There may be more Donald Trump tapes to come, including one where he says "n*gger"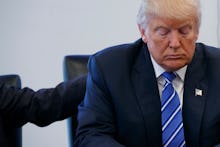 Beyond the Washington Post's release of a 2005 video on Saturday — in which Republican nominee Donald Trump can be heard bragging about sexually assaulting women — more damning recordings may exist, according to producer Chris Nee.
Former The Apprentice producer Bill Pruitt tweeted Saturday evening that he was aware of "far worse" tapes featuring the candidate that have yet to leak to the public. Later that night, Nee tweeted at billionaire Mark Cuban, an outspoken supporter of Hillary Clinton, that she had heard there is audio of Trump saying "the N word" that has yet to surface.
All someone needs to do is offer to cover the penalty fee of $5 million and the additional legal fees anyone leaking the audio might suffer, Nee told Cuban.
According to BuzzFeed News, one source close to The Apprentice producer Mark Burnett says he "has made clear to his teams that he will sue anyone who leaks." Burnett, a Trump supporter, has remained publicly neutral about the real estate mogul's campaign for the presidency, but more than 20 former cast and crew members of the show told the Associated Press Trump was often crude, vulgar and bigoted during the taping of the show.
Trump also engaged in similarly crude and sexist dialog on shock jock Howard Stern's radio show, CNN reported on Sunday, with topics including "his daughter Ivanka's physique, having sex with women on their menstrual cycles, threesomes and checking out of a relationship with women after they turn 35."
The release of a tape of Trump using racial slurs would likely spell the ultimate doom for his candidacy; since Friday, numerous high-profile GOP politicians have fled the candidate's campaign, while the Republican National Committee has reportedly cut off all support. Trump's support from black voters has hovered in the low single-digits throughout his campaign.