President Obama indicts Trump's character over latest tape scandal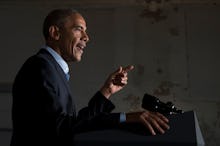 President Barack Obama slammed Republican presidential nominee Donald Trump on Sunday ahead of the second presidential debate, calling the real estate mogul's rhetoric "disturbing" and "unbelievable."
According to CNN, the president took a direct swipe at Trump at an event Sunday afternoon over the Washington Post's recent release of audio from 2005 in which Trump graphically bragged about how his fame enabled him to assault women.
"One of the most disturbing things about this election is just the unbelievable rhetoric coming at the top of the Republican ticket," Obama said at an event for Rep. Tammy Duckworth's (D-Ill.) senatorial campaign. "I don't need to repeat it. There are children in the room."
"Demeaning women, degrading women, but also minorities, immigrants, people of other faiths, mocking the disabled, insulting our troops, insulting our veterans," the president added, noting later in his speech, "It tells you that he's insecure enough that he pumps himself up by putting other people down. Not a character trait that I would advise for somebody in the Oval Office ... [Trump] doesn't care much about the basic values that we try to impart to our kids."
Obama concluded: "Are we really going to risk giving Donald Trump the majority he needs to roll back all the progress we've made over the last eight years?"
Criticism over the content of the tape — which includes Trump using the now-infamous phrase "grab them by the pussy" in a boast about nonconsensual sexual contact — has not been limited to Democrats. In the wake of the tape's release, a wave of high-profile Republicans abandoned the candidate, dealing a major blow to a campaign already beleaguered by tax scandals, an investigation into Trump's signature charity and what looks like a low level of campaign readiness for election day.