5 takeaways from the second presidential debate: An ugly, ugly spectacle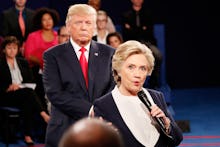 Sunday night's second presidential debate was a depressing slide into the mud.
A newly released tape of Donald Trump bragging about grabbing women "by the pussy" — an action he said he could do without consent because he is a celebrity and could "do anything" — hung in the air.
It was a revelation that likely tanked Trump's presidential chances, with more than a dozen Republicans abandoning his bid and calling for him to drop out.
But with Trump entering the night with nothing to lose, he came out swinging, hosting a pre-debate press conference with women who decades ago accused President Bill Clinton of rape, and then throwing the kitchen sink Clinton's way.
Will the debate move the needle?
Here are the five biggest takeaways of the night:
Donald Trump dragged this race into the gutter
For Americans already dismayed by the tone and tenor of this race, Trump found a way to disgust them even more.
Before the debate even began, Trump created a spectacle, holding a press conference with women who had accused former President Bill Clinton of sexual assault. And he sat them in the front row of the audience, an effort to throw Clinton off her game.
It was perhaps one of the ugliest moments in modern American politics, and put the race squarely in the gutter before the candidates even stepped out onto the stage.
Aside from the cadre of Trump surrogates, the moment was widely panned by pundits before the debate began.
Those pundits — from all parts of the political spectrum — expressed dismay with the kind of scorched-earth attacks Trump launched, saying it was not befitting of a man seeking to sit behind Resolute desk in the Oval Office.
Polls suggest this will not go well for Trump, whose bid already suffered an extreme flesh wound before the debate.
But we won't know the full extent of the damage until later this week, when high-quality surveys are released.
"She needs women to win," Mary Anne Marsh, a Democratic political consultant, said in an interview. "Does he turn off women so they don't vote for him but they don't vote for her either? ... This is a math game, and we won't know until Thursday or Friday."
Trump is incapable of apologies
With the leaked Trump tapes being the major news ahead of the debate, many were expecting Trump to take the stage and appear contrite — apologizing for his words and actions.
But Trump was instead defiant, calling it mere "locker room talk," which is unlikely to endear him to the female voters he needs to win over if he wants to close the gap in the polls.
In response, Clinton brought up every person and group of Americans Trump has attacked throughout the campaign, her best counterpunch of the night.
Body language matters, and Trump's was awful
This was a town hall debate, meaning audience members got to ask questions. Instead of standing behind podiums, both candidates had chairs and were able to walk around the stage.
And Trump did not handle that medium well.
He wandered around the stage, standing behind Clinton and looking menacing.
The medium led to some awkward and uncomfortable images.
In one image in particular, Trump is seen making a bizarre face while leaning on his chair while Clinton answered a question.
The election is likely over, but this wasn't the knock-out punch
This debate appealed to both candidates' bases.
Those who were already staunchly with Trump will not abandon him after this debate.
He was able to land punches on issues that reinforce voters' reasons for why they don't like Clinton, including on her emails as well as being a career politician.
But he also shot himself in the foot on a number of exchanges, including his response to the leaked tape, as well as his defense of his attacks on other Americans like former Miss Universe Alicia Machado.
After the first debate, Trump tweeted in the wee hours of the morning that Machado had a sex tape (she doesn't), and encouraged people to watch it.
Trump at first denied saying those words, before then said he's "not unproud" of his early morning tweeting.
In sum, it likely stops the bleeding Trump's campaign is experiencing, but it is unlikely to add supporters to his coalition.
Don't mess with Martha Raddatz
The debate was co-moderated by CNN's Anderson Cooper and ABC's Martha Raddatz.
But you almost wouldn't know Cooper was on stage.
Raddatz asked the most pointed questions, and she pushed both candidates to answer questions when they didn't answer.
She also fact-checked the candidates' answers, and kept the night moving.
Trump even complained about her during the night, a no-no in debate etiquette.