Hillary Clinton on Trump's predatory comments: "It represents exactly who he is"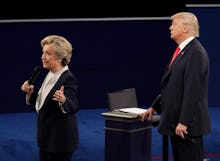 Donald Trump maintains that when he said he could just grab a woman by the genitals if he was interested in her it was just "locker room talk." At the second presidential debate Sunday night, he doubled down on that defense, adding that the statement was unrepresentative of who he is. 
Hillary Clinton disagreed.
"What we all saw and heard on Friday was Donald talking about women," she said. "What he thinks about women, what he does to women, and he has said that the video doesn't represent who he is. But I think it's clear to anyone who heard it that it represents exactly who he is. Because we've seen this throughout the campaign."
Clinton continued, noting his frequent social media attacks on women for their appearance, their weight and their intellect. "We saw him after the first debate," she said, "spend nearly a week denigrating a former Miss Universe in the harshest, most personal terms."
Indeed, after Clinton mentioned Alicia Machado in the first presidential debate, Trump launched an early morning Twitter tirade in which he both fat shamed Machado and pointed his audience toward her sex tape. He's called women "fat pigs," "dogs" and "slobs," and called Rosie O'Donnell all three. 
But the most recent incident is the leaked audio recording from a 2005 exchange between Trump and then-Access Hollywood correspondent Billy Bush in which Trump said that, when you are a celebrity, you can just "grab [women] by the pussy." 
"You can do anything," he said, noting also his tendency to just kiss women without their consent and his concerted but ultimately unsuccessful attempt to "fuck" a married woman, whose appearance he then disparaged.
That leak came Friday; a second round of incriminating audio surfaced Saturday, in which Trump condoned Howard Stern's labeling his daughter, Ivanka, "a piece of ass" and boasted about barging into the Miss Universe dressing room as something he "sort of got away with," because he was the pageant's owner.
"This is who Donald Trump is," Clinton said. "But it's not only women and this video that raises questions about his fitness to be our president. Because he has also targeted immigrants, African-Americans, Latinos, people with disabilities, POWs, Muslims and so many others. So, this is who Donald Trump is."
"The question for us, the question our country must answer is that this is not who we are," she continued. "That's why to go back to your question, I want to send a message, we all should, to every boy and girl, and indeed to the entire world."
Correction: Oct. 9, 2016