Donald Trump appears with Bill Clinton sexual assault accusers before debate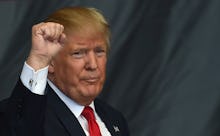 As he prepared to face Hillary Clinton in a pivotal debate on Sunday night, Donald Trump appeared with Juanita Broaddrick, Paula Jones and Kathleen Willey, three women who have accused Bill Clinton of sexual assault, indicating that he was prepared to play hardball against both Clintons amid a raging controversy over his decade-old comment that he could "do anything" with women, including "grab them by the pussy."
"These four very courageous women have asked to be here and it was our honor to help them," Trump said in a Facebook Live broadcast with the women.
The other woman present was Kathy Shelton, whose alleged rapist Hillary Clinton represented in court four decades ago.
ABC News reported that the four women would be in the audience at the town hall-style debate in St. Louis.
"We're not surprised to see Donald Trump continue his destructive race to the bottom. Hillary Clinton understands the opportunity in this town hall is to talk to voters on stage and in the audience about the issues that matter to them, and this stunt doesn't change that," Clinton campaign communications director Jennifer Palmieri said in a statement. "If Donald Trump doesn't see that, that's his loss. As always, she's prepared to handle whatever Donald Trump throws her way."
Broaddrick, who alleges that Bill Clinton raped her when he was Arkansas attorney general in 1978, said that the former president's actions were far worse than Trump's comments.
"Mr. Trump may have said some bad words, but Bill Clinton raped me and Hillary Clinton threatened me, and I don't think there's any comparison," Broaddrick said.
Video of the appearance ended after reporters asked Trump about his own predatory remarks.
"Why don't you ask Bill Clinton that? Why don't y'all go ask Bill Clinton that? Ask Hillary as well," shouted Jones, who says Bill Clinton forced himself on her when he was Arkansas governor.
Watch here.