Donald Trump and Hillary Clinton don't shake hands in tense moment before second debate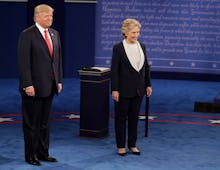 After a pre-debate spectacle, in which Donald Trump trotted out women who had decades earlier accused President Bill Clinton of sexual assault, the second presidential debate kicked off in an uncomfortable moment in which neither Trump nor Hillary Clinton shook hands.
Instead of shaking hands, Clinton merely said hello to Trump.
The moment was yet another ugly moment in a presidential race that's been filled with ugly moments.