What were Donald Trump's comments about women, and what did he say to Howard Stern?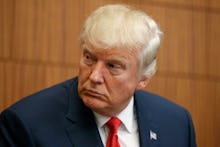 After a review of 17 years of audio files Trump's appearances on radio host Howard Stern's radio program, news outlet CNN found that Trump commented on his daughter Ivanka's body, having sex with women on their periods, threesomes and putting the kibosh on relationships with women over 35. 
On his daughter Ivanka 
While appearing on the show in October 2006, Stern said that Trump's daughter Ivanka "looks more voluptuous than ever." 
Trump corrected Stern, saying, "She's actually always been very voluptuous," Trump responds. "She's tall, she's almost 6 feet tall and she's been, she's an amazing beauty."
In September 2004, Stern asked Trump if he can call Ivanka a "piece of ass." To his question, Donald responds in the affirmative: "Yeah," he said. 
Ageism towards women 
Trump made several disparaging remarks about women in their 30s, as well. Trump told Stern that he's left older women to date younger ones. 
In a 2002 appearance, Trump called 30 "a perfect" age for a woman and said that when a woman turns 35, "it's called check-out time." 
Women under 30 were not immune to his crude, sexist comments either. In a 2006 interview, Trump answered "absolutely" when asked if he could still be "banging 24-year-olds."
"I'd have no problem," Trump said. "No, I have no age — I mean, I have age limit. I don't want to be like Congressman Foley, with, you know, 12-year-olds."
On beauty pageants contestants
In April 2005, Stern asked Trump if he had ever had sex with a Miss USA contestant. Though Trump said he doesn't comment on that, he went on to insinuate that he had, in fact, done so, even though it was a conflict of interest. 
"It could be a conflict of interest," Trump said. "But, you know, it's the kind of thing you worry about later, you tend to think about the conflict a little bit later on."
Trump later explained that he often gets away with going backstage while contestants are naked. 
"Well, I'll tell you the funniest is that before a show, I'll go backstage and everyone's getting dressed, and everything else, and you know, no men are anywhere, and I'm allowed to go in because I'm the owner of the pageant and therefore I'm inspecting it," Trump said. "You know, I'm inspecting because I want to make sure that everything is good."
His sex life — women's periods, black women and group sex 
Trump spoke about having sex with women on their periods, as well. In a 1997 interview, Stern asked Trump: "Will you have sex with a woman if she's having her period?" 
"Well, I've been there. I have been there Howard, as we all have," Trump responded.
"You don't like it?," Stern asked.
"Well, sometimes you get there by mistake," Trump said.
In the same interview, Stern also asked Trump if he'd ever slept with a black woman.
"Well, it depends on what your definition of black is," Trump said. 
"Interesting. I like this discussion. His bed is a rainbow," Stern said.
"The rainbow coalition, as Rev. Jesse would say," Trump said.
In a 2008 interview, while saying he had a lot of sex with his wife Melania, then later said that he had threesomes — and foursomes. Trump says that he slept with three women who collectively weighed "about 375," he said. 
"I figure 125 a piece as opposed to 100," he said. About having threesomes, Trump asked, "Haven't we all?" 
He added, "Are we babies?" 
Trump's comments show that his lude, sexually aggressive comments from 2005, caught on a leaked video and released on Friday afternoon, are not a one time incident. 
"Grab them by the pussy," Trump says on the tape. "You can do anything."
As the second presidential debate starts on Sunday, people will be wondering how Trump's comments — caught on camera or said intentionally on Howard Stern's radio program — will affect him come the Nov. 8 election.