Donald Trump tells Hillary Clinton she'd be "in jail" if he were president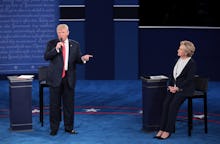 Donald Trump threw the kitchen sink at Hillary Clinton at the first debate, threatening to bring a special prosecutor to look into her use of a private email server as secretary of state and saying she should be in "jail."
"I hate to say this, but if I win, I'm going to instruct my attorney general to get a special prosecutor to look into your situation, because there has never been so many lies, so much deception, there has never been anything like it, and we're going to have a special prosecutor," Trump said.
Clinton responded by attacking Trump's temperament.
"It's just awfully good that someone with the temperament of Donald Trump is not in charge of the law in our country," Clinton said.
To which Trump threw out a biting response.
"Because you'd be in jail," he said.