Clinton got under Trump's skin at the debate, and that's exactly what she needed to do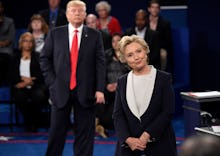 ST. LOUIS — So that happened.
The most surreal presidential debate in history unfolded here Sunday night at Washington University, as Donald Trump melted down on stage in front of millions of American voters watching at home.
His performance is unlikely to reassure the dozens of Republican elected officials who have abandoned Trump in recent days, following the release of his now-infamous comments about women in 2005, in which he seemingly described sexual assault.  
The difference between Clinton and Trump was so stark that at times it was hard to believe both are running to be president of the United States. Trump, reeling from a disastrous 48 hours, was evasive, rude and condescending, interrupting Clinton numerous times and frequently arguing with the moderators over their handling of the debate.
He was angry — angry at Clinton, angry at Anderson Cooper, angry at Martha Raddatz, angry that his campaign is in a death spiral. He lied repeatedly and brazenly on a whole host of topics. It was often clear that he no idea what he was talking about — his answers on health care and the situation in Aleppo, Syria, in particular were a jumble of phrases that barely fit together.
The emergence of a recording of Trump bragging about sexually assaulting and forcibly kissing women in 2005 loomed over the first half hour of the debate, culminating in an outburst by Trump that was the defining moment of the night.
Trump was pressed by Cooper early in the debate to explain his comments, in which he said he grabbed women "by the pussy."
"You called what you said locker room banter," Cooper said. "You described touching them on their genitals. That's sexual assault. Do you understand that?"
"No, this was locker room talk," Trump replied. "I'm not proud of it. I apologized to my family and the American people. I'm not proud of it. But this is locker room talk."
He meandered for a few more minutes, denying that he ever actually assaulted women. Clinton responded that the tapes revealed Trump's true character, later tying his remarks to his attacks on the family of a fallen soldier, a Mexican American judge and his responsibility for fueling birtherism. 
"Everyone can draw their own conclusions at this point about whether or not the man in the video or on stage respects women," Clinton said. "But he never apologizes for anything to anyone... he owes the president an apology, and our country. And he needs to take responsibility for his actions and his words."
This set Trump off. He responded to Clinton's answer by unleashing a torrent of accusations against Clinton and eventually saying, "if I win, I am going to instruct my attorney general to get a special prosecutor to look into your situation," referring to her handling of her private emails. 
It was a remarkable thing for the presidential nominee of a major party to say. Never before has one candidate threatened to jail his or her opponent after the election. It was indicative of Trump's general tone throughout the night — with his campaign in turmoil, he came to the debate willing to throw any and everything at the wall.
Clinton maintained her composure and answered the questions posed to her, which is an admittedly low bar for winning a debate. But given her opponent's inability to control his temper or deal with actual facts, it was all she needed to do.