Who is Kathy Shelton? The woman behind Trump's attack on Hillary Clinton's rape defense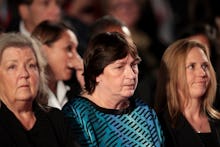 Donald Trump met with three of Bill Clinton's sexual assault accusers just hours before he faced Hillary Clinton for the second debate of the 2016 election.
About a half hour into the debate, Trump spoke of another woman who says she was a 12-year-old rape victim who Clinton attacked during her trial in the 1980s.
Kathy Shelton, who is now 54 years old and in attendance at Sunday's night's debate in St. Louis, has accused Clinton, who helped represent her alleged attacker, of blaming her for her rape.
In an interview with an Arkansas journalist, obtained by the Washington Free Beacon, Clinton talks about the case:
It was a fascinating case. ... This guy was accused of raping a 12-year-old girl. Of course he claimed that he didn't, and all this stuff. He took a lie detector test. I had him take a polygraph, which he passed, which forever destroyed my faith in polygraphs (laughter).
Shelton says she was raped by a factory worker when she was 12. According to the Daily Caller, Clinton "had his charges reduced from first-degree rape to 'unlawful fondling of a child under 14' and he served just 10 months in prison."
Shelton has sent a number of tweets during her time at the debate.
Mic has ongoing presidential coverage. Please follow our main election hub as well as coverage of Donald Trump and Hillary Clinton.