Donald Trump doubles down on his shaming of Alicia Machado: She's "no girl scout"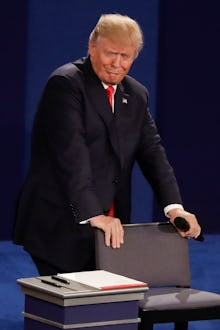 More "locker room talk" from Donald Trump at Sunday night's debate.
Addressing his early-morning Twitter tantrum following the first presidential debate, in which the Republican nominee slammed Hillary Clinton for her mention of former Miss Universe Alicia Machado, Trump doubled down on his shaming rhetoric. 
In his original tweet, Trump directed followers to "check out" a sex tape featuring Machado, as well as her past. During Sunday's debate, he both denied having suggested anyone "check out a sex tape," while also hinting at Machado's personal life.
She "was no girl scout," Trump said.
It's rich rhetoric coming from a man with a history of sexual misconduct. In May, the New York Times published the accounts of dozens of women on whom Trump had made inappropriate, unasked-for sexual advances; whom he'd sexually harassed; whom he treated without anything like respect. As USA Today reported Sunday, some 20 lawsuits exist against Trump and his businesses for his alleged "mistreatment of women."
And then, there's the most obvious recent incident: two separate leaks of recordings in which Trump says disgusting things about women. In 2005 audio the Washington Post released Friday, Trump tells then-Access Hollywood correspondent Billy Bush how he goes about courting women.
"Grab them by the pussy," Trump said. "You can do anything. 
On Sunday, CNN released a conversation between Trump and shock jock Howard Stern, in which the Republican nominee gave Stern the green light to call his daughter, Ivanka — whose "voluptuous" body Trump praised — "a piece of ass." He also recalled intruding on changing Miss Universe contestants in their dressing rooms under the guise of "inspecting" the pageant, as its owner. 
During the second presidential debate, Trump insisted that the tapes were unrepresentative of his character. Clinton would have none of that.
"What we all saw and heard on Friday was Donald talking about women," she said. "What he thinks about women, what he does to women, and he has said that the video doesn't represent who he is. But i think it's clear to anyone who heard it that it represents exactly who he is."