Alicia Keys, Jay Z perform "Empire State of Mind" at surprise show in Times Square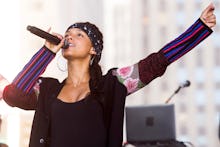 Alicia Keys announced on Twitter on Oct. 2 a secret, free show at an "iconic" location in New York City. At that time, few could likely have foreseen how bold the recently uncovered star was looking to go. Then Sunday, when showtime hit, the lights went up in the bustling, neon-lit Times Square and Keys was there in the heart of New York City.
Keys put together a star-studded show to share tastes of her upcoming album Here, announced Friday and due out Nov. 4. The Roots' Questlove backed her on drums; John Mayer lent his guitar and voice in a repeat pared down repeat of the Roots Picnic lineup (held Oct. 1 and 2) in New York City's Bryant Park. 
Keys played some of her new material, as well as John Lennon's "Imagine" to celebrate what would have been the revolutionary's 76th birthday. But the biggest, most unexpected, most iconic moment of the night — the keystone in this Big Apple moment — came Keys brought out two of the most game-changing artists New York has ever raised: Jay Z and Nas.
Jay and Keys ran through their anthem "Empire State of Mind," while Nas spit his "One Love" — two songs that rank alongside Frank Sinatra's "New York" in their capturing of the city in all its grime and glory.
The performance wraps up a big weekend for Keys. On Friday, she released the first single off Here, "Blended Family," featuring bars from A$AP Rocky. The song is an ode to love and the trials and tribulations that families overcome in becoming whole. It nods to some of Keys and husband Swizz Beats' past relationships, particularly his previous marriage to R&B star Mashonda.
"I'm so excited for you to hear this song," Keys wrote on Instagram when sharing the song Friday. "It means so much to me and our whole family. The understanding, compassion and support we've found is a powerful testament to the healing that comes when we choose love. Especially for the kids... the most important part of our lives."
Watch a few of the other clips from the show below, and get ready for the return of R&B's queen on fire Nov. 4.