It's more than "locker room talk": Trump hit more than 20 lawsuits for mistreating women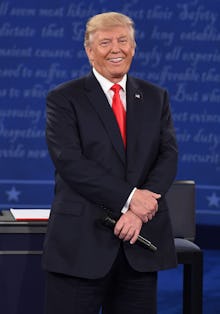 Donald Trump and his companies have been sued more than 20 times for allegedly mistreating women, USA Today reported Monday morning, with allegations ranging from the companies discriminating on the basis of gender to Trump himself sexually harassing women.
The news comes three days after a 2005 tape leaked that showed Trump bragging about grabbing women "by the pussy" without their consent. Trump did not offer a sincere apology for his actions at Sunday night's debate, instead brushing them off as "locker room talk."
The USA Today report may further damage Trump's image with women following the tape's leak.
Of the many lawsuits women filed against Trump and his companies for alleged mistreatment, the most explosive is a suit filed by Jill Harth.
Harth, who was working with Trump on a beauty pageant deal, sued Trump for unwanted physical and verbal sexual advances.
She alleged that Trump tried to grab her "intimate private parts" under a table during a dinner party at the Trump Plaza Hotel.
Harth dropped the lawsuit in 1997, when Trump agreed to settle a separate suit Harth and her husband brought against Trump, involving a breach of contract.
But her words corroborate the "locker room talk" Trump used in the 2005 tapes, in which he said he could grab a woman's genitals whenever he pleased because he was famous and could "do anything."
For a look at all of the lawsuits filed against Trump by women alleging discrimination, check out the full USA Today report here.