North Carolina flooding 2016: Hurricane Matthew has tempered, but storm isn't over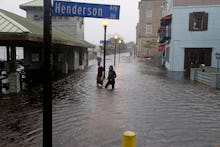 Hurricane Matthew battered the southeastern U.S. last week. and, while the hurricane-force winds and driving rain may be gone, many parts of the country are still experiencing the aftereffects of the storm. In North Carolina, flooding has caused widespread damage and left hundreds of thousands without power, CNN reported early Monday morning. 
Matthew had been downgraded from a hurricane to a post-tropical cyclone by the time it passed by the North Carolina coast this weekend, and has now moved back out to the Atlantic, but the rainfall and winds that went with it are causing major problems for the state. 
The flooding in North Carolina could likely get even worse, CNN reported, as the state prepares for rivers to "top their banks" over the coming days.
Matthew left 10 dead in North Carolina as of Monday morning, ABC11 reported, "most" of whom died when flood waters swept away the cars they were in. Much of the state is currently under flood warning, and rising water had trapped residents inside their homes as of Sunday morning, according to North Carolina Gov. Pat McCrory. 
According to ABC11, as of Monday morning there were evacuation orders in the towns of Princeville and Goldsboro, and residents of Fayetteville, Johnston County, Sanford, Lee County, Asbury Water District, Spring Lake and parts of Wayne County were under advisory to boil drinking water.
Don Schwenneker, ABC11's meteorologist, warned North Carolina residents not to try to drive on flooded roads, saying "If you see water over a roadway, you need to treat it seriously and don't drive through it!"