'The Girl on the Train' reviews: Here's what critics are saying about Emily Blunt's film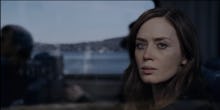 The Girl on the Train, an adaptation of Paula Hawkins' novel of the same name, arrived in theaters Friday, performing well at the box office through the weekend. Unfortunately, The Girl on the Train hasn't lived up to the same critical heights as fellow "Girl"-titled psychological thriller Gone Girl. 
Currently holding a "rotten" rating at 43% on reviews aggregator Rotten Tomatoes, The Girl on the Train received praise for Emily Blunt's compelling lead performance, but the rest of the film has left a lot to be desired.
IndieWire's David Ehrlich was quick to point out the film's notable likeness to Gone Girl, but wasn't impressed with the execution: 
Imagine if 'Gone Girl' had been developed as a toothless network television pilot — if it had been stripped of its subversive approach to gender dynamics, bludgeoned free of its sadistic gallows humor and shot like a very special episode of 'NCIS: Suburbia.' Imagine instead that it had been directed by the guy who made 'The Help.'
Meanwhile, Vox's Alissa Wilkinson noted that the novel's signature twists don't translate well on-screen, in part, because they need more time to develop than what's offered in less than two hours of screentime: 
For a while I couldn't figure out why all the emphatically shocking revelations felt so much wackier than they did in the novel. But the problem is something the movie couldn't avoid, as it turns out: It's just a movie, and it lasts less than two hours; the book by contrast clocks in at a healthy 336 pages. So the rate at which the plot-bombs are doled out in the book is slower, which keeps them from feeling as silly — you and the characters have a little time to recover.
While Time's Stephanie Zacharek wasn't wholly positive in her review of the movie, she had heaps of praise for Blunt's captivating lead performance: 
Blunt's Rachel, her face puffy and splotchy from too much drinking, makes the movie watchable — she's its most nuanced and sympathetic character. It's wrenching to watch her nurse her resentment as she stares from the window of that train: quaffing her secret vodka from an adult sippy cup, she's so sozzled she's practically pickling her soul in self-loathing.
Perhaps the worst compliment the film could receive: Richard Roeper of the Chicago Sun-Times found The Girl on the Train amusing in scenes that were intended for dramatic effect. "It's shiny trash that begins with promise but quickly gets tripped up by its own screenplay and grows increasingly ludicrous and melodramatic, to the point where I was barely able to suppress a chuckle at some of the final scenes," he writes. "And this is no comedy." 
The Girl on the Train is currently in theaters.