Solange's 'A Seat at the Table' hits No. 1, breaking a big record for the Knowles sisters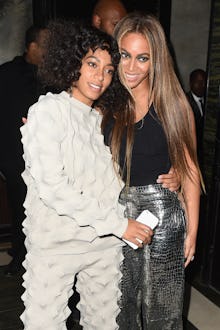 The Knowles girls run the world. 
Solange, Beyoncé's younger sister, officially earned her first Billboard number-one album Sunday, as her new record Seat at the Table beat out Bon Iver's inscrutable 22, A Million for the top spot. Both sisters officially have seats among music's commercial elite.
Solange's triumph also amounts to a new record when looked at alongside Beyoncé's Lemonade. Both albums hit number one in the same year, with Beyoncé dominating the spring months and Solange taking over the fall. They're one of only two sibling pairs to pull this doubleheader in the same year; Michael Jackson and Janet Jackson pulled the same in 2001, with Invincible and All For You. 
However, Solange and Beyoncé are the first pair of sisters. That's black girl magic at work.
Only one other sibling pair has ever earned their own number ones (albeit not in the same year): Master P and his brother, Silkk the Shocker. Interestingly, the former of the two has a pretty significant spot on Solange's album, narrating the majority of the album's interludes. 
"[This album] happened the way it was supposed to happen because she's a star and it's her time," Master P recently told Complex, praising the success of the release. "Like I told her, I said, a lot of people looking at Beyoncé, and Beyoncé is a superstar, she deserves that. But Solange has always been different, and if you're persistent, and you keep believing in something, then you're gonna create your own fanbase. And she [did that] outside of being in the shadow of her sister."
Solange did it all through very different means than her big sis. There were no Diplos or Mike Will Made Its helping to guarantee the hit. Solange relied on a small group of musicians, who collected the melodic seeds for the album in a series of jam sessions, as detailed in "Beginning Stages," a short documentary Solange shared Thursday. The album's intimate, familial simplicity that runs through the songs was instilled in the project from the ground up.
It's all paid off: The album doesn't listen like a blockbuster album, but its mission to empower and heal black America, specifically black women, shines through. It shares that mission with Lemonade in large part — a fact that doesn't surprise Solange in the least. As she told the Fader:
It shouldn't be surprising that two people who grew up in the same household with the same parents who are very, very aware — just like everyone else is — of all of the inequalities and the pain and suffering of our people right now, would create art that reflects that. ... As far as I'm concerned, she's always been an activist from the beginning of her career and she's always been very, very black. My sister has always been a voice for black people and black empowerment. And I give so much of that credit to my parents.
Mathew Knowles and Tina Lawson deserve a huge thank you for the great gifts they brought into this world.