Muslim Americans perfectly clapped back at Donald Trump with #MuslimsReportStuff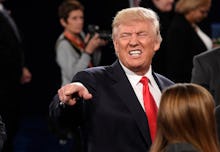 No one has vilified Muslim Americans on a national stage more than Donald Trump this year.
So when the Republican presidential nominee was asked about Islamophobia during Sunday night's debate in St. Louis, it made sense for Trump to divert the conversation to terrorism. He told Muslims that they should collectively report any suspicious terror activity.
"Whether we like it or not, there is a problem and we have to be sure that Muslims come in and report when they see something going on," Trump said. "When they see hatred going on, they have to report it."
Here's what Trump failed to mention: Muslim Americans do engage in community policing to prevent violent extremism. In fact, according to a 2016 Duke University study, they report more tips to the U.S. government than foreign governments, and nearly at the same rates as the CIA and FBI.
A tweet by Moustafa Bayoumi, a Muslim American writer and college professor at Brooklyn College, went viral on Sunday for doing exactly what Trump suggested.
Other Muslim Americans followed suit with #MuslimsReportStuff: 
Muslim Americans are one of the most hated groups in the country, and the exponential rise of anti-Muslim hate crimes in 2016 is worse than it was in 2001 after the Sept. 11 attacks. In fact, many researchers have linked Trump's rhetoric to a spike in hate crimes during the presidential election.
Trump's response to a question about Islamophobia is just another instance of someone choosing to talk about Muslim Americans within the parameters of either being terrorism-prone or a useful tool against terrorism.