Galaxy Note 7 reportedly killed: So what Android should you buy?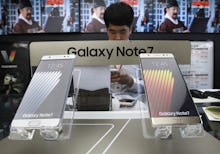 Samsung is in the midst of another PR disaster: After multiple reports of exploding batteries caused the company to recall its flagship Galaxy Note 7 back in September, Samsung has halted production of the "replacement" phones, according to South Korean news agency Yonhap. 
Over the past few dew days alone as many as five reports detailing replacement Galaxy Note 7s exploding or catching fire have surfaced — including one on a commercial airplane preparing to take off. 
While Yonhap's report said the Galaxy Note 7's suspension is temporary, it's probably time to consider a new smartphone option. Here are some comparable Android devices worth buying:
Google Pixel 
The new kid on the block, Google Pixel has a lot going for it besides trendiness. There's also the iPhone-challenging camera along with unlimited photo and video storage, virtual reality capability and a sleek operating system equipped with an intuitive AI assistant. Those who appreciate the Apple aesthetic but prefer the Android operating system could find a winner here. 
OnePlus 3 
Another relative newcomer to the smartphone market, OnePlus has earned the distinction of delivering high performance at an affordable price. The OnePlus 3 is no exception: a powerful processor, terrific 16-megapixel camera and elegant aluminum design. For all of its capabilities, the OnePlus 3 is ridiculously inexpensive. This phone could be the perfect replacement after shelling out all that dough on the Galaxy Note 7.
Samsung Galaxy S7
Yes, Samsung has had its fair share of issues with the Note, but there's no denying that the Galaxy S7 is the Android phone to beat right now. It's received nearly universal acclaim from critics and serves as a reminder of why Samsung's latest mishaps are so shocking. This is the company the made the S7, after all, which checks all of the boxes: lightning-fast performance, superb battery life and an outstanding camera. Samsung loyalists should size down and pick up the S7.