'Birth of a Nation': Here's why Nate Parker's movie wasn't — and won't be — a success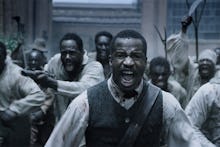 Months of hype, controversy and media frenzy couldn't help Nate Parker's The Birth of a Nation at the box office opening weekend. The Nat Turner biopic made $7 million, barely scraping into the range of analysts' projections, but it's overwhelmingly being described as a flop. Considering distributor Fox Searchlight paid $17.5 million for the rights — a record buy at the Sundance Film Festival — that box office draw has to hurt.
Were this Birth of a Nation's only problem, the film could probably survive until Oscar season, gain some new momentum by sweeping the nominations and then make the bulk of its money on an awards season rerelease. But that is not Parker's movie's only problem, not by a long shot. At this point, it's hard to imagine history viewing The Birth of a Nation as anything but a failure.
When The Birth of a Nation played Sundance, the response was nothing short of rapturous. Yet according to some reports now, the initial reaction may have been inflated. 
Vulture's Kyle Buchanan wrote Wednesday that several who saw the movie there thought it was "just okay," but held their reactions amid the fanfare. "They weren't eager to share their reactions at the time, lest they step on Parker's moment," Buchanan wrote.
So that's why it's not so odd that several high-profile critics panned the film, including New York's David Edelstein and the New Yorker's Richard Brody. Even the so-called "fresh" reviews on Rotten Tomatoes, like Time's Stephanie Zacharek's, weren't that complimentary. "The Birth of a Nation isn't a great movie — it's hardly even a good one," she wrote.
Reviews like these make the movie's 78% approval rating on Rotten Tomatoes look inflated — and even 78% is solid at best, certainly not stellar. But it does feel like the film is no longer a major Oscar player — because of the reviews and box office, certainly, but also because of Parker's own past.
Ahead of The Birth of a Nation's release, former sexual assault allegations against Parker resurfaced. At first, it was just the previous news: In 1999, Parker and Birth of a Nation story co-writer Jean Celestin were tried for raping an 18-year-old woman. Parker, who claimed consensual sex with the victim as his defense, was acquitted; Celestin was found guilty, but won an appeal after.
Then, Variety learned that Parker's accuser killed herself in 2012. The director fought badly against the resulting media avalanche, repeatedly not taking responsibility and refusing to apologize. His handling of the incident has been a publicist's worst nightmare. Instead of quickly moving to put the matter to bed, he kept taking interviews and kept failing to say anything definitive, in effect just stringing the story along. Any filmgoers who hadn't heard about the news initially have heard about it during one of Parker's many follow-up news cycles.
Parker's past, and his handling of it since, has presented a difficult question to filmgoers: Is it worth seeing The Birth of a Nation? Is supporting Parker worth seeing a film about an important, difficult part of American history? 
People like journalist Soledad O'Brien got into the discussion over the weekend on Twitter:
Maybe the controversy kept would-be moviegoers away. Maybe the reviews did. Maybe it was a combination. Regardless, The Birth of a Nation tanked, and there's almost certainly no saving it — if it were even worth saving in the first place.