The story behind Ken Bone's red debate sweater will make you love him even more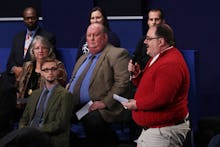 At this point it's safe to say that Ken Bone, that kind-looking man who stood and asked an incredibly sane and specific question at Sunday night's debate, along with his red sweater, are both icons. 
Since Bone made his appearance late last night, CNN announced him as the winner of the debate, and he's made an appearance on the network as well, wearing what looks to be that exact same sweater. 
Twitter has been in a frenzy of Bone's red sweater, calling it "snazzy" and noting that he's now actually a style icon. 
GQ even launched an investigation into the sweater itself, concluding that it was probably created by the brand Izod. After Mic did some digging, we found that it's sold for between $42.99 and $80 across the internet. 
And now Bone, our new national hero, is speaking out about that particular sweater. Turns out, the red sweater wasn't his first choice for what to wear when you're an undecided voter about to ask two presidential nominees a question about job loss and fossil power plants on national television. 
In interviews with with the radio show The Morning After, and CNN, Bone said that prior to slipping on that now-iconic red cable knit, zip-up sweater, he wanted to wear an olive suit. The red sweater was his plan B. 
So what happened so that he had to change out of that suit and into that sweater? Well, according to the man himself, he split his pants in his car on the way over. 
"I had a really nice olive suit that I love a great deal and my mother would have been very proud to see me wearing on television, but apparently I've gained about thirty pounds and when I went to get into my car in the morning of the debate, I split the seat of my pants all the way open," Bone told CNN, just a few hours after he told the same story to The Morning After. "So the red sweater is plan B and I'm glad it worked out." 
We're glad it worked out too, Ken. 
"I actually think the sweater was the star and I just was wearing it," he noted on The Morning After. 
If this story has you down, there's at least one GoFundMe campaign trying to raise money so Bone is never without a nice olive suit again. 
You can listen to Bone's entire interview with The Morning After here.