Kellyanne Conway calls Donald Trump a "gentleman" in the wake of sexual assault scandal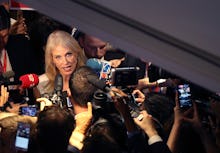 On Sunday, Donald Trump campaign manager Kellyanne Conway came to the defense of her boss, calling the Republican presidential candidate "gracious" and a "gentleman." 
The statement comes days after Trump was publicly embarrassed by leaks of NSFW audio recordings in which he spoke explicitly and disgustingly about women — including his own daughter — simultaneously signaling to the world that he might just be a sexual predator. 
"Grab them by the pussy," Trump told then-Access Hollywood host Billy Bush, in a 2005 hot-mic conversation the Washington Post leaked Friday. "You can do anything you want." 
Conway's statement is just the latest opportunity the political strategist has taken to remind the media of her dubious grasp on sexual assault.
Since the recordings surfaced, many have noted that the behavior Trump outlined qualifies as sexual assault. That, combined with his bleak history when it comes to the sexual victimization of women, only deepens questions about the Republican nominee's assertion that he "cherish[es] women." But not for his campaign manager.
"I have to assess people based on what I see in totem [sic]," Conway told CNN's Dana Bash in a post-debate interview. "And this is a man that I've been alone with many times who's never been anything but gracious and [a] gentleman and elevated me to the top level of his campaign the way he's elevated women in the Trump organization because he respects women."
As polls have shown, most people don't buy Conway's last point, especially not after the recent audio leaks. And while Conway called the candidate's comments "offensive and disgusting," echoing Melania Trump's assessment of the recordings, she also expressed satisfaction with his apology.
"I'm very happy that he apologized," Conway told Bash. "I'm glad he holds himself accountable." 
While Conway has ostensibly never fallen prey to Trump's magnet-like mouth, the fact that he's never sexually assaulted her doesn't mean he's never sexually assaulted anyone else — numerous women have said the candidate has abused them physically, verbally or both. 
But sexual assault is not a thing Conway appears to understand so well — in 2013, she suggested that women who are raped have only themselves to blame for not being physically strong enough to fight off their rapists. 
"If we were physiologically — not mentally, emotionally, professionally — equal to men, if we were physiologically as strong as men, rape would not exist," Conway said during a televised panel about women in combat. "You would be able to defend yourself and fight him off."
It may come as little surprise, then, that Conway disagreed with the assessment that Trump was describing sexual assault in the leaked tapes. In a post-interview tweet, she also suggested CNN misrepresented her characterization of the candidate.
Watch her comments below: