Warner Bros. announces at New York Comic Con it's exploring animated Wonder Woman movie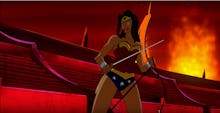 Fans of DC Comics' popular heroine Wonder Woman are waiting for the first live-action film in the character's 75-year history, out next year. But the Gal Gadot-starred Wonder Woman might not be the only upcoming project led by the superhero. 
Speaking at New York Comic Con, Warner Bros. Animation's supervising producer James Tucker said they are also interested in a possible Wonder Woman animated film.
"We discussed with Warner video, and they have Wonder Woman on their radar in some form or fashion," Tucker said, according to Comic Book Resources. 
For context, Warner Bros.' last animated film around Wonder Woman came in 2009: a direct-to-DVD release of the same name as the hero. Given its stature at the time — Wonder Woman's brand is arguably at its peak, now that a live-action film is on the way — it still boasted an impressive cast, including Emmy-nominee Keri Russell as the voice of Wonder Woman, along with Alfred Molina, Nathan Fillion and Rosario Dawson. 
Moreover, given the concern surrounding the DC Cinematic Universe after the critical failures of Batman v. Superman and Suicide Squad, Wonder Woman is far from a sure thing. Rumors have already begun to swirl that the film is "another mess," per an open letter from an alleged former Warner Bros. employee. An animated film in the vein of the 2009 film, which was very well-received, could only help DC's brand. 
Tucker didn't provide any specifics for the next Wonder Woman animated project, but it's likely more news will come after the first feature film's release. 
The live-action Wonder Woman is slated to hit theaters June 2, 2017.