Presidential Polls 2016: The latest poll numbers following the presidential debate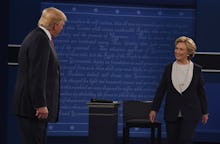 The second Donald Trump vs. Hillary Clinton debate proved to be one of the ugliest in modern history as tens of million of people tuned in to see Trump go on the attack while Clinton repeatedly tried to rise above the Republican's jabs. 
Overall, focus groups and instant scientific polls post-debate suggested Clinton edged a victory over Trump. But the win was not nearly as dramatic as the instant thermometer read: Some surveys suggest Trump may have effectively hit Clinton in ways he did not in the first debate. Overall, the debate may not matter: new polling shows Clinton may have a double-digit national lead. 
Read More From Mic: Hillary Clinton polls: How the candidate is trending the week of Oct. 10
Post-debate results
As of late Monday morning, two post-debate scientific polls showed debate viewers believed Clinton trounced Trump. A CNN/ORC poll said the Democratic nominee won the night by 23 percentage points. 
But in contrast to the first presidential debate, where voters were unimpressed with Trump's performance and opinions of him turned more negative, Trump bested expectations Sunday night. Despite Trump's mud-slinging and a debate-watching audience CNN said skewed Democratic, the poll found 63% of viewers said Trump did better than expected.
A YouGov poll offered closer results, saying 47% of viewers believed Clinton won — only a five-point difference over Trump in that poll. 
Focus groups on the night of the debate also delivered different results. 
Pollster Frank Luntz said his focus group trended toward Trump after the debate. But on Twitter, some questioned Luntz's reasoning and his ties to the GOP.
A CNN focus group in Ohio had far more favorable results for Clinton. As the Los Angeles Times noted, focus groups — and who is conducting them — can be unreliable measures of how voters will perceive a politician's performance.
To wit, voter debate reactions seemed more mixed than after the clear Clinton victory in the first presidential debate. Clinton's win was confirmed by a polling bump she continues to enjoy in national polls. It will be several days before national and state pollsters are able to incorporate post-debate opinions into their surveys. 
Latest national and state polling
Though we are still days away from post-debate voter polling, at least one survey has already incorporated the results of the release of a 2005 audio recording of Trump. In that recording, Trump describes acts that could be considered sexual assault. 
In response to the question "How much does Donald Trump respect women?" the NBC/Survey Monkey poll found a seven-point jump in voters answering "not at all" after release of the recording. The number of voters saying Trump has "a lot" of respect for women dropped seven points. 
And an NBC/Wall Street Journal poll released Monday morning gave Clinton a double-digit lead over Trump nationally. From Mic Politics Editor Luke Brinker: 
The survey, conducted entirely after the Friday leak of Trump's boasts about behavior that fits the federal definition of sexual assault, showed Clinton trouncing Trump 52% to 38% in a head-to-head contest. She nabbed 46% in a four-way contest, with Trump at 35%, Libertarian nominee Gary Johnson at 9% and Green Party hopeful Jill Stein at 2%.
Even before the release of the audio, Clinton routinely enjoyed double-digit leads over Trump among women. Her numbers among women could now rise dramatically as attention to the #TrumpTapes flooded the internet: Saturday, the day after release of the audio, was the second-most-tweeted day of the 2016 election.
Regardless of how the debate or tapes affect polling, the status quo is good for Clinton. The latest polling average has her up 4.5 percentage points nationally. In battleground states like Florida, North Carolina and Nevada, her lead continues to grow. She may even be leading again in Ohio.