Paul Ryan is ashamed to campaign with Donald Trump, but still supports him for president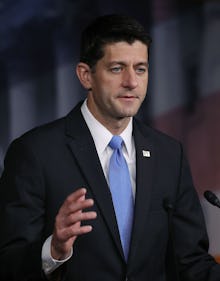 House Speaker Paul Ryan on Monday told House Republicans he won't defend Donald Trump after videotape surfaced of the GOP nominee bragging about sexually assaulting women. However, Ryan added he is not yet rescinding his endorsement, according to multiple reports.
In a call with members of the House Republican conference, Ryan said he is going to spend the remaining 29 days of the election focused on helping Republicans win congressional races, rather than campaign for Trump, according to Politico reporter Jake Sherman.
Ryan also advised House Republicans to make a judgment call on whether to rescind their support for Trump, telling GOP congress members to base their decisions on the dynamics of their individual districts, according to the Hill's Scott Wong.
Trump's comments on women have upended the presidential race, likely making the Republican presidential nominee seem even more toxic to women voters than he was before the tape surfaced.
And for Republicans, how to handle the fallout is a balancing act that in many cases presents them with a lose-lose proposition.
This is especially true for members of Congress or Senators up for re-election in swing districts or states. Either they renounce Trump and lose the GOP base, or they don't denounce him and lose the moderate swing voters who could decide their electoral fates.
Similarly, Trump has proven his penchant for lashing out when members of his own party denounce him.
He ran a scorched-earth campaign in the primary against Republicans who said he was unfit to lead, including former Florida Gov. Jeb Bush and Florida Sen. Marco Rubio.
Trump's also attacked Republican members of Congress who, even before the tape, had vowed never to vote for him, including Nebraska Sen. Ben Sasse, Arizona Sen. Jeff Flake and Illinois Sen. Mark Kirk.
Ultimately, Ryan's comments and the ensuing stream of Republicans who could denounce Trump could make for an ugly race leading up to Nov. 8.