Hillary Clinton crushes Donald Trump in national poll taken after #TrumpTapes leak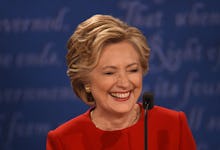 As Donald Trump faces fallout from the leak of a videotape in which he made predatory remarks about women, Hillary Clinton has surged into a double-digit lead nationally, according to an NBC News/Wall Street Journal poll released Monday morning.
The survey, conducted entirely after the Friday leak of Trump's boasts about behavior that fits the federal definition of sexual assault, showed Clinton trouncing Trump 52% to 38% in a head-to-head contest. She nabbed 46% in a four-way contest, with Trump at 35%, Libertarian nominee Gary Johnson at 9% and Green Party hopeful Jill Stein at 2%.
The Democratic nominee's massive lead is likely to send shivers down the spines of congressional Republicans, whose Senate majority is tenuous and whose hold in the House would be in jeopardy if Clinton won by a margin resembling her lead in the NBC/WSJ poll.
Should she win by such a margin, Clinton would also post an Electoral College landslide, with FiveThirtyEight estimating she would win such traditionally Republican states as South Carolina, Georgia, Missouri and Arizona.
According to the poll, 52% of voters believe Trump's leaked comments — in which he boasted he could grope women "by the pussy" because celebrities like him can "do anything" — should be an issue in the campaign, while 42% said his remarks should be off limits.
Despite the backlash, Trump is likely to hang onto his core base of support, the poll suggested. Only 9% of Republicans polled said Trump's remarks should prompt congressional Republicans to rescind their endorsements of the nominee, while only 14% said Trump should exit the race.
Trump's performance in Sunday night's debate — in which he helped rally Republicans with sharp attacks on Clinton, but is unlikely to have broadened his base of support — may forestall a further hemorrhaging of his GOP support.
Twenty-nine days out from Election Day, though, holding onto your base's support hardly counts as an accomplishment — and if other surveys corroborate the NBC/WSJ poll, Trump's party could be headed to a November bloodbath.